Skechers Work Shoes Reviews (Model 76760)
Product Name:
Skechers 76760
Brand:
Skechers
Material :
Leather & Rubber sole
Feature:
Steel toe
Colors :
4
Origin:
Imported
Purchase This Product on Amazon
Sketchers For Work Men's Soft Stride Lace Up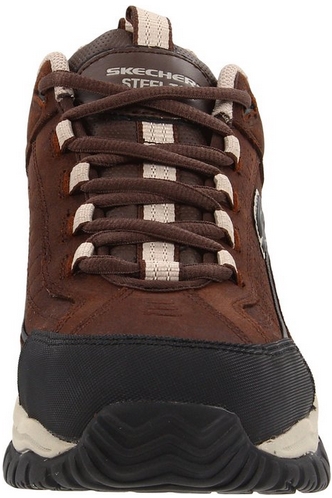 If you're buying work shoes for the first time, it's a smart bet to buy from a company you already know and trust.
While other companies may make a more specialized boot, you may not want to pay upwards of a hundred dollars to take a chance on a boot you either don't know about or don't think you'll use every single day.
Again, That's understandable.
What you're looking for is a work shoe that fits and feels like something you're familiar with;
In that case, what you need are the Skechers Soft Stride Lace Ups from the Sketchers Shoes For Work collection.
What Does It Do For Me?
Aside from feeling and bending just like a normal shoe (thanks to the soft lace-up panel and padded tongue), these Skechers men's boots have all the safety features that you demand on the job site.
You get things like:
OSHA compliant slip-resistance for both oil and water, both on the bottom and the out sole
A steel toe that's ASTM rated for protection from puncture damage and electrical hazards.
A durable combination leather and synthetic body that keeps out the elements and keeps the overall weight of this work shoe down.
Who Needs the Skechers 76760?
With this Skechers boot, your biggest draws are going to be two things;
They don't look or feel like other work shoes, and they don't cost as much as them either.
As such,
They're absolutely perfect for anybody who's on the fence about buying work shoes, whether for DIY projects or in a professional capacity.
Because they come from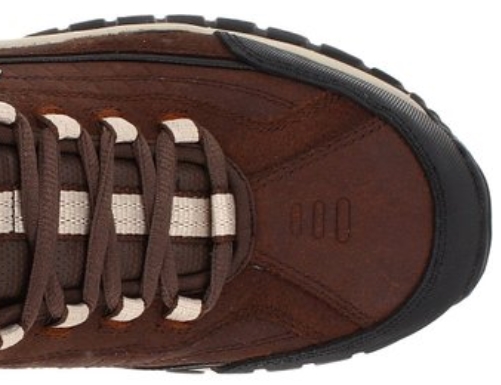 a company that does the lion's share of their business in shoes, you can bet that a lot of their know-how for comfort is going to find its way into your work shoes,
AND
Because they're such a widely used brand, you probably already know how your size feels.
As for price, the Skechers lace-up work boots are much more affordable than other work shoes.
Costing around the price of a regular pair of cross-trainers, these work shoes won't break the bank and you won't feel like you need to wear them everywhere just to get your money's worth.
That isn't to say these shoes are cheap, however; while they're not as heavy duty as Wolverines or Timberlands, these work shoes are tough enough to do the job, and at nearly half the cost, are great for anybody who needs a pair for volunteer work,
DIY projects, or any kind of outdoor labor.
What Do Sketchers Boots Reviews Say?
in online stores, the reviews average out in the four-star range, with half of reviewers giving the Sketchers Soft Stride Lace Up perfect reviews.
Of the positive comments, a few things are constant:
They are definitely affordable and tough for the price.
They fit true.
They're a great alternative to larger, clunkier boots.
Of the negative comments, there are just a few drawbacks:
These shoes need a little extra padding.
People who need wides may be disappointed.
They're not as heavy-duty as work boots.
Should I Get It?
As a work shoe, the Soft Stride Lace Ups do a great job. They're affordable, they're durable, and they don't look like regular boots.
For construction professionals, however, you might find these get worn down much quicker than larger, more expensive boots, and you end up replacing them much more frequently.
The real sweet spot for these shoes is for the DIY enthusiast or for craftsmen who work in a shop; for a moderate amount of wear and tear, these shoes will give you all the protection you need at a price that you can afford.
Purchase This Product on Amazon