Men's Wolverine Work Boots Review ( Model W08288 )
Product Name:
W08288 Wolverine-M
Brand:
Wolverine
Material :
Leather & Crepe Sole
Feature:
Moc-toe & Contrast Stitching
Colors :
Brown
Origin:
Imported
Purchase This Product on Amazon
Wolverine Boot Review

Even if you're only a weekend handyman or an occasional DIY enthusiast, you still need a good pair of boots to do all you're going to do.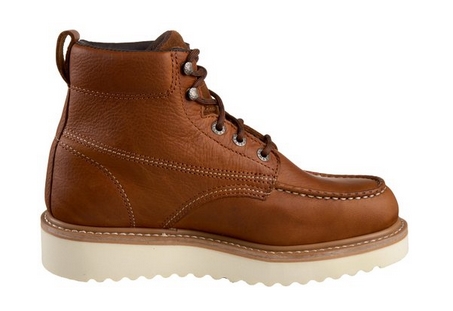 Sure, you could always use a pair of old tennis shoes, but they get ripped open in weeks, you can do cheap knock-off brands that'll do the same, or you can get the same kind of gear the professionals use,
But you'll end up paying an arm and a leg.
Naturally, you'd want to do none of those things, and good for you.
What you really need is a well-built boot from a company that knows how to do it within the range you're willing to invest.
What you're looking for is the Wolverine Men's Moc-Toe 6" Boot.
What's Good? What's Not?
Right off the bat, you know that because these are Wolverines, you're getting quality.
Your biggest points are going to be the imported leather sole with a crepe design, a foot bed cushion that just pops out, and a Goodyear welted out sole, all of which add up to some of the best Wolverine has to offer.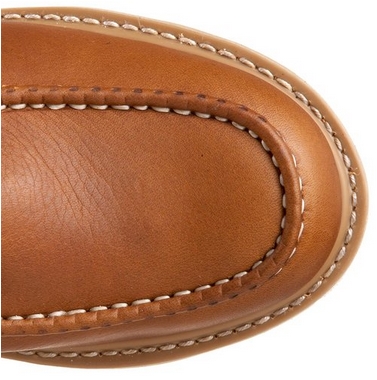 However, there is one noticeable lack in these boots, and that is a steel toe.
While you can get models of the same boot with a steel-toe option, the lack of a steel-toe means that these won't work as protective equipment on job sites with strict requirements.
That's not to say these are bad boots by any stretch of the imagination, but rather that they, by themselves, don't provide that kind of protection.
For cheap Wolverine boots, however, these are some of the best boots Wolverine puts out, and it shows from the first time you put them on.
Then Who Needs Them?

Just because these boots don't have a steel toe doesn't mean nobody has a use for them. Like we said earlier, DIY enthusiasts and weekend volunteers can find a good friend in these affordable boots, giving them all the traction they need on the job without the price tag.
The lack of a steel toe doesn't slow down farmers or wood workers either; if you're not in a position where you actively have to worry about things being dropped on your foot, these Wolverine Moc-Toe's actually do a respectable job.
Plus, the crepe design on the top of these boots gives it kind of a boat-shoe aesthetic, so these boots would even look good as part of your day-to-day wear (provided you knock all the big dirt clumps off).
While you can pay a bit more and get the steel-toe protection, if you're on a budget getting a pair of boots for light duty, it doesn't need to be a huge concern.
Who's Saying What In the Wolverine Boots Review?
Not surprisingly for a Wolverine work boot, these Moc-Toe work boots have a generally good user friendly.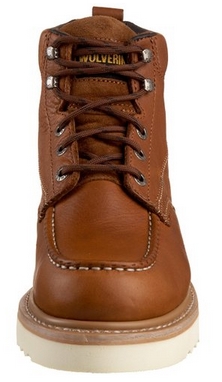 Rather than just relying on stars, however, we're going to focus on what people are actually saying online:
The Good
These boots are exceedingly comfortable after a few day's break-in.
For the price, they're incredibly durable.
They just plain look good.
The Bad
You need to be careful with the eyelets.
The Moc-Toe isn't as tough as a real steel-toe boot
Your most common complaint is the sole separating from the rest of the boot.
Should I Buy These Men's Wolverine Work Boots?
Whether or not you should by these Wolverine men's boots really depends on the abuse you expect to put them through; even though these are Wolverines, they still lack a steel-toe.
However,
If you're doing DIY projects on the weekends or just live in an area where boots are both a reality and a fashion necessity, you'll have a hard time finding a more comfortable pair.
For heavy construction or to satisfy job site requirements, you should probably look to a real steel-toe boot from Wolverine's line, but for anything short of that, the Moc-Toe Wolverine boot will probably see you through.
Purchase This Product on Amazon