Caterpillar Steel Toe Waterproof Work Boots Review
Product Name:
Cat Diagnostic Boots (Model 89940))
Brand:
Caterpillar
Material :
Leather & Rubber sole
Feature:
EVA Gel technology
Colors :
Dark Beige
Origin:
Imported
Purchase This Product on Amazon
Caterpillar Men's Diagnostic Steel-Toe Waterproof Boot
They're NOT Shocking, And We're Fine With That
OR
in dangerous areas,
you know just how important a good set of steel toe boots can be.
An asset in most jobs and an OSHA requirement in others,
A good set of steel-toe boots protect your feet from getting crushed by falling objects, pierced by loose nails on the job site, and, with the right pair, protection from electric current.
To cut down on injuries that can keep you off the job site, you owe it to yourself to pick up a good pair of Caterpillar Men's Diagnostic Steel-Toe Waterproof boots.
Should I Buy Caterpillar Steel Toe Work Boots?
Short answer ? Yes and No.
For a general purpose boot, these lightweight steel-toe boots will do just fine; however, for heavy construction,
You might find these boots a little lacking,
Especially compared to similarly priced models or, on the waterproof front, steel-toe rubber boots.
That's not to say these boots are bad, far from it; for mechanics, engineers, and anyone who works in manufacturing, these boots are absolutely perfect.
The big deciding factor for buying a pair of CAT Diagnostic steel-toe boots should be whether or not you're going to be working with electricity.
If you are,
Then these boots will keep you both safe and comfortable, letting you get the most out of a great company and a great product.
Why Is CAT (And These Boots) So Great?
Anybody who's ever even driven by a job site is familiar with Cat's big yellow construction equipment, so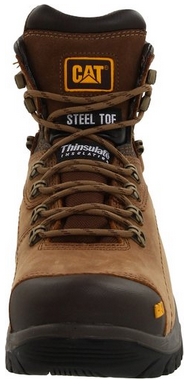 it's a safe bet that they know a few things about what happens on the job site.
With their reputation and know-how, Caterpillar's Diagnostic boot gives you all the safety of a steel-toe boot, combined with an ergonomic fit that makes work comfortable.
In addition,
This model also has a bit of thermal insulation, so even working in cold temperatures won't slow you down.
Break Down the Basics
Because your job may require these, we've got a list of exactly what these CAT steel toe boots offer:
Electrical protection up to 600 volts
A full-grain waterproof leather construction
Six inch padded shaft for additional ankle support
Removable EVA Foam insert
Who Could Use Steel Toe Waterproof Work Boots?
While these boots will work for anybody who wants waterproof steel toe work boots, the Diagnostics really shine for electricians and on-site engineers.
Obviously,
The electrical protection on the Caterpillar Diagnostic boot is enticing, especially with the waterproof leather exterior and the insulation inside, all perfect for fixing downed power lines in stormy weather.
The removable insole is a nice touch as well, particularly for workers with custom-fit orthotics.
This way, you're not balancing your insert on top of another, allowing you to use your inserts as efficiently as possible.
What Are People Saying?
Just to prove that CAT isn't just blowing smoke, the reviews for the Diagnostic Steel-Toe Boot are generally positive, with an emphasis on how they do everything they promise and do it well.
Of course,
Reviewers are also saying that these boots are light weight, tough, and require little to no breaking in to use, as well as the fact that they are perfect for civil engineers.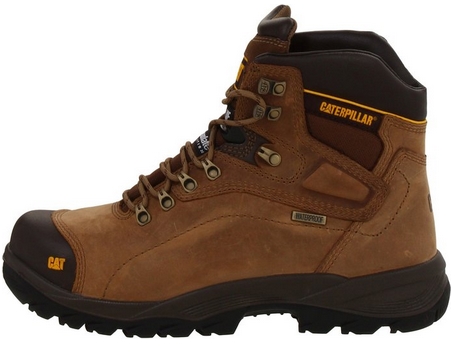 These boots do have a few negative reviews;
However,
They're nothing to worry about. The lion's share of those reviews all deal with people using them for heavy construction and being disappointed when they fall apart.
Fortunately, for anything other than the professional construction worker, these boots work just fine.
Purchase This Product on Amazon