Caterpillar Second Shift Boots Review (Steel Toe)
Product Name:
Caterpillar Men's Second Shift ST Work Boot
Brand:
Caterpillar
Material :
Leather
Feature:
Slip Resistant Outsole
Colors :
Two
Origin:
Imported
Purchase This Product on Amazon
CAT Second Shift Steel-Toe Work Boots – What You Need To Know

Sturdy, Simple, Affordable.
For the modern construction professional, these three tenants are the most important parts of a good boot, especially when they're just starting out.
While you may be able to get by with sub-par job site tools, the one thing you can't neglect is your feet; after all, you can't work if you can't stand up straight.
You owe it to yourself to get a pair of affordable boots that are built tough from a company you can trust.
Whether you're just starting out, picking up a second pair,
OR
just aren't sure where to start looking for high-quality affordable boots, you'll find a friend in the CAT Second Shift Boots.
How Tough Is It?
For an affordable job site boot, these Caterpillar Second Shift steel toe boots really cover all the bases you'd expect on a much more expensive work boot.
You've got your basic full-grain leather body and rubber sole, metal rings around the shoelace grommits for extra durability, and a steel toe designed to protect you against falling objects with ease.
In addition, you're also getting a comfortable work boot with an extra padded tongue and a Climasphere insole that's designed to cushion your step, wick moisture away, and keep everything as comfy as possible.
But How Does a CAT Second Shift Work Boot Stack Up?
When you compare the Second Shift Steel-Toe boots to everything else in the Caterpillar steel toe boot line,
You'll find that,
Even with the steel toe option, these are the most affordable of their work boots.
Comparing to mid and upper range boots,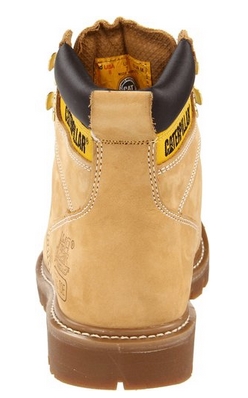 the Caterpillar 2nd Shift is the best way possible to get into CAT footwear without breaking your bank.
It's got all the basics covered, it's nice and durable, and it's already safety rated for most anything you'd need in a work boot,
So you're all set.
Compared to other similarly priced boots, Caterpillar Second Shift boots do have a few contemporaries in their low price range,
But
The majority of them are from relatively unknown brands.
The exception,
However, are the Wolverines Marquette boots, and while it does offer pretty much the same options as your Second Shifts, it also costs about twenty dollars more.
While the others offer some interesting one-off features,
However, none of them can compete with CAT's features, durability, or name recognition at all, making these the penultimate bargain work boots.
What's Good? What's Bad?
Of course, there's a good and a bad side to every major product; fortunately, online stores favors the good side of these Second Shift Steel-Toe Boots by a large margin.
Among their favorite quotes are:
For the price, they're amazing boots.
They're incredibly comfortable for long periods of standing.
Once they're broken in, they move naturally and comfortably.
Just to be fair, reviewers also point out a few negatives about this boot as well,
Things like:
The insole needs a bit more padding.
Your laces are going to be a little slicker than normal.
Before you break them in, the steel toe is a little irritating.
Should I Buy Caterpillar Second Shift Work Boots?
As an affordable work boot, the CAT Second Shifts are really second to none.
Out of all the major brands, very few produce a work boot that's as much of a bargain as these CATs.
If you have to buy on a budget, don't waste your time with an unknown company, because CAT Second Shifts have got you completely covered.
Purchase This Product on Amazon