Finding the Most Comfortable Work Boots For Women
Best Work Boots For Tough Working Women
Finding the right pair of work boots can be a difficult task, especially for women. Often being less dominant with physical labor jobs, most companies don't make specialized work boots for women.
This can make it frustrating to find the perfect pair, which is really important when you're going to be wearing these boots for about eight hours a day.
You spend a lot of time in your work shoes, and aching feet aren't something you want to have to deal with as a result of not finding a good pair of women's work boots.
You need something that fits your feet nicely,
Is durable,
And are overall just comfortable.
Luckily, you've stumbled across the right place.We've gone ahead and have done the dirty work for you,
Here are the 10 Best Work Boots  Reviewed For Women
This list is nicely compiled to include all the features and benefits of these specific women's work boots.
We've Narrowed Down the search to only include the best boots for women, each offered at a good value. They are listed in no particular order, and so be sure to check them all out before making your final decision.
You can compare the Features, Benefits, as well as the Descriptions that are provided. We Guarantee that you'll find the right pair of boots for the job!
Timberland PRO Women's Titan Waterproof Boots
If you're after a good pair of Timberland boots for women, than this is your top option. These boots are not only durable, but comfortable as well. They are specifically designed to fit comfortably on women's feet, and are made light so that you don't use up as much energy just from walking.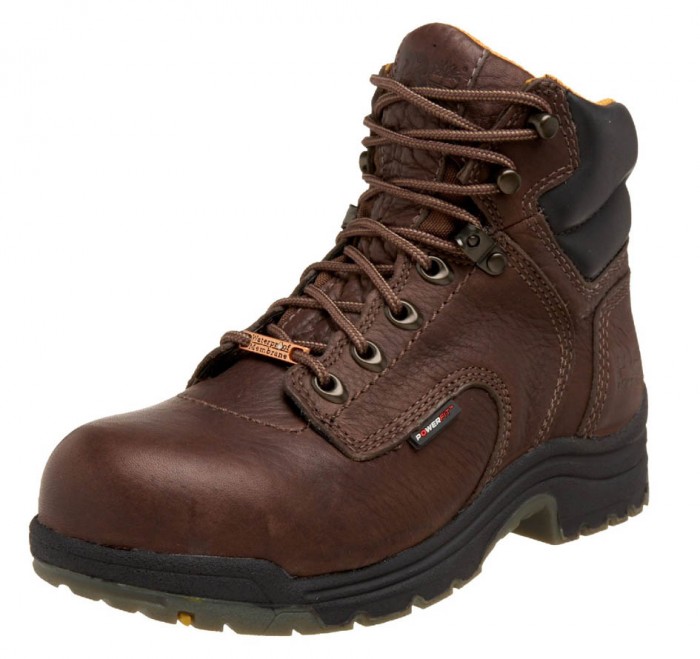 "Purchase This Product on Amazon"
Features
Leather Crafted
Imported
Rubber Soles
Lightweight
Steel Toed
Benefits

Wide Range of Sizes
High Approval Rating
Designed for Women's Proportions
Ankle Protection
Soft Leather for Fast Break In Time
Waterproof
Caterpillar Women's Carlie Steel Toe Boots
This is a very good pair of Caterpillar women's steel toe boots. They are come with a stylish design in a chocolate color with white trim. They feature iTechnology, which is used to design boots with both comfort and durability in mind. They are meant to last day after day, without causing aching feet. They have effective EVA cushioning and energy return that will keep you comfortable and moving.
You also have electrical hazard protection of up to 600 volts in dry weather conditions. This pair of women's brown work boots weighs only two pounds, making them easy to move around in. They are waterproof, so they'll keep your feet dry in wet conditions. The only downside is that they don't come with puncture resistant soles.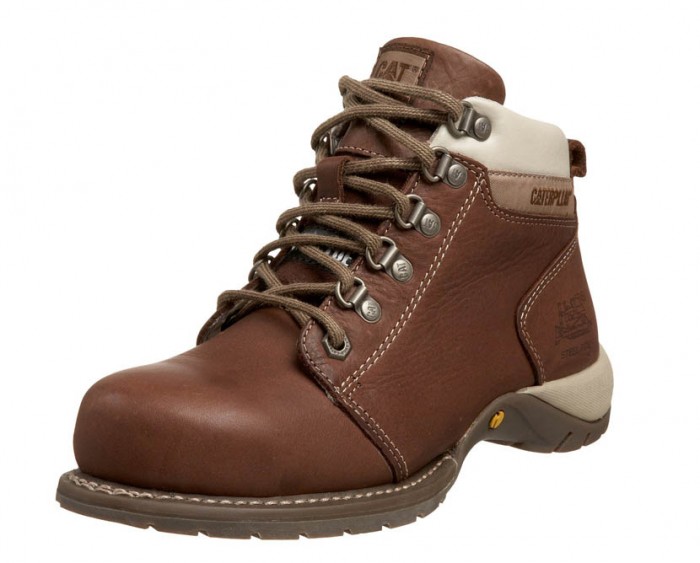 "Purchase This Product on Amazon"
Features
Leather Crafted
Rubber Sole
Large Boot Opening
Full Grain Leather Upper
Electrical Hazard Protection
Steel Toed
Benefits
Highly Rated in Durability
Light Weight
Ankle Laces
Ortholite Footbed For Odor Control
Keen Utility Women's Flint Low Work Boots
This pair of Keen's women's boots is designed solely for comfortability, while offering standard work boot protection. They are a pair of Keen utility flint low boots, so while they may not provide as much ankle protection as other options, they are easier to walk around in and very light weight. The soles come removable, so you can swap them out for something more comfortable if you have gel soles. They are also quite flexible so that you can adjust your foot how it's needed.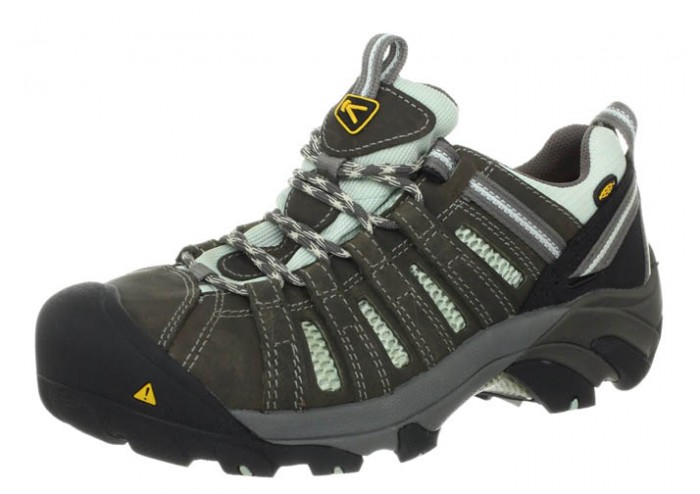 "Purchase This Product on Amazon"
Features
Leather Crafted
Imported
Slip Resistant
Women's Fitted
Benefits
Low Cut for Comfortability
Light Weight
Steel Toe Protection
Water Resistant
Durable
The Original Muck Boots Adult Jobber
The greatest part about these boots is how easily they wash off. Being made of rubber, grime and dirt slides right off of them after a hard day of working outside. This is why they're such a great pair of muck boots for women. They are completely waterproof and highly durable against damage and puncturing. Not to mention that they are comfortable and have a soft inner lining. They breathe easily and are temperature controlled so that your feet don't become uncomfortable under certain temperatures. The ladies muck boots review for this specific pair are pretty high up.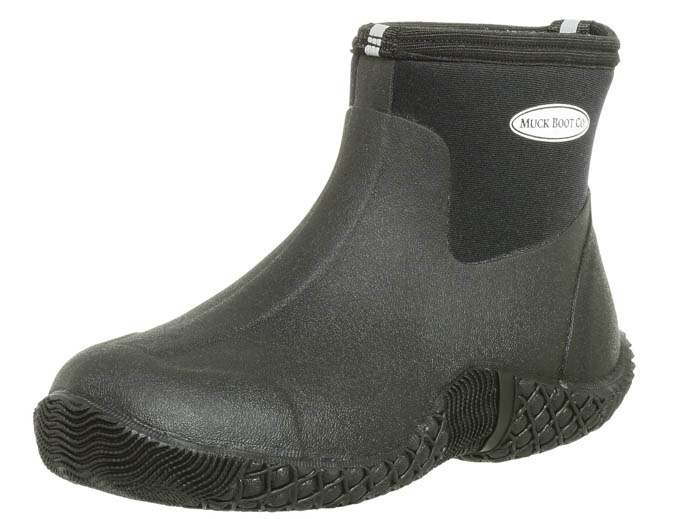 "Purchase This Product on Amazon"
Features
Rubber Crafted
Waterproof
Air Mesh Lining
Reinforced Achilles Support Panel
Rubber Upper
Rubber Sole
Benefits
Highly Durable
Easy to Clean
Comfortable
Flexible
Temperature Resistant
Timberland Pro Women's 6″ TITAN Soft Toe Work Boots
This pair of Timberland women's work boots is one of the best values you can find.  They are practically a steal. They are sold in both brown and coffee, which is rare since most work boots only come in a single color. They are specifically designed for women so that they'll match the proportions of your feet and fit comfortably. This pair of brown boots for women are slip resistant and waterproof, making them optimal for wet climates. If you need a quality pair of boots that are budget friendly.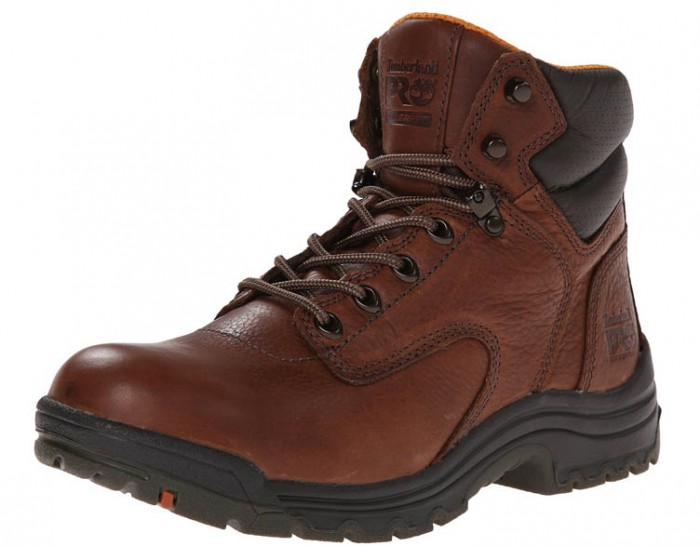 "Purchase This Product on Amazon"
Features
Slip Resistant
Women's Design
Imported
Leather Crafted
Ankle Protection
Benefits
Light Weight
Durable
Comfortable
Foot Protection
Low Price
Justin Boots Women's Gypsy Collection 8″ Steel Toe
If you're looking for a stylish pair of work boots, then you've come across the right pair. These Justin Gypsy steel toe boots for women come in four color schemes — brown/pink, gray/pink, black/pink, and brown/green. Although they are work boots, they are designed to look good as well and have a cowgirl type of look to them. You'll feel like you're wearing women's steel toe cowboy boots, even though they are designed for work. These Justin Gypsy work boots are also comfortable and durable, so they are perfect for outdoor labor. They are also waterproof, and can stretch a little bit if your foot size changes. For this reason, it's recommended to buy the boots a little smaller than you normally would since they do adjust.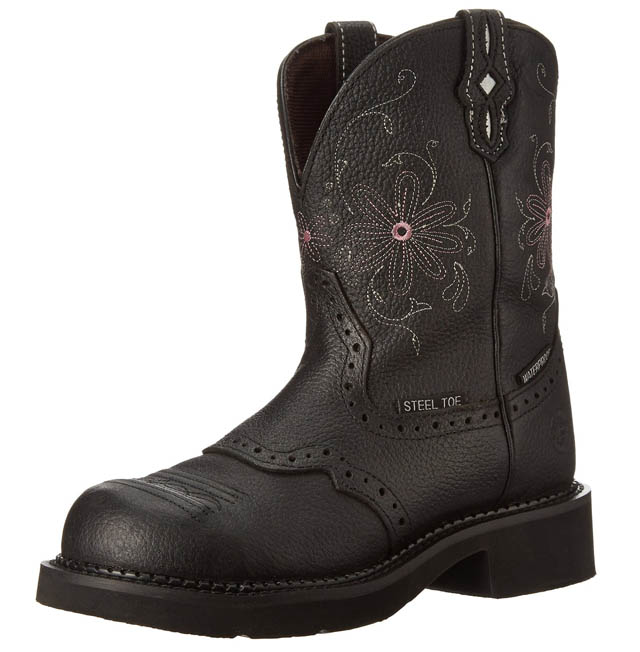 "Purchase This Product on Amazon"
Features
Steel Toed
Imported
100% Leather Crafted
Rubber Soles
Removable Orthotic
Benefits
Stylish
Designed for Women
Multiple Color Options
Comfortable
Low Cost
Harley Davidson Women's Darice Work
If you're into the motorcycle chic look, then this is the pair of boots for you. These come in black leather, or with a rustic leather design. Along the top is a stylish black buckle. They have a one inch block heel, which can make them a little uncomfortable for long term working. However, the soft inside of these Harley Davidson women's boots is comfortable enough to almost make it worth it.  If you want something that fits nice and looks just as good, then pick up this pair of Harley Davidson boots.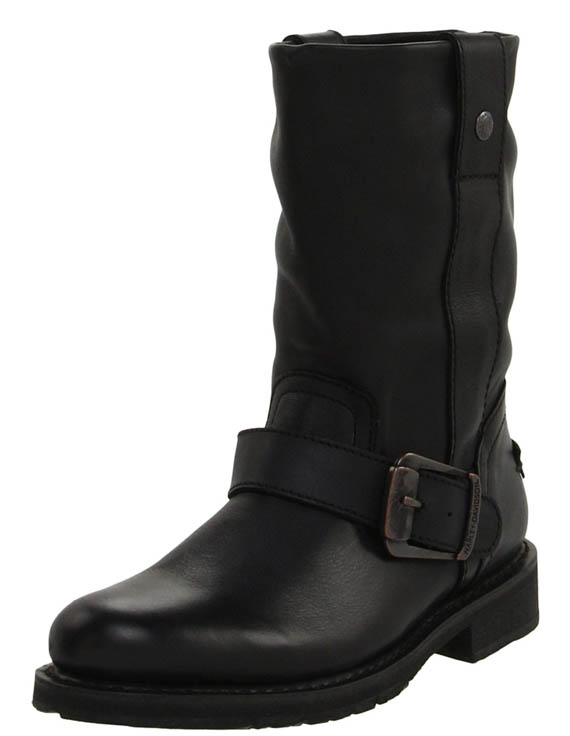 "Purchase This Product on Amazon"
Features
Leather Crafted
Imported
Rubber Soles
Premium Grain Leather
YKK Locking Inside Zipper
Oil and Slip Resistant
Rubber Outsole with Rubber Street Side
Benefits
Stylish
Easy to Pull on and Strap
Multiple Styles
Large Variety of Sizes
Maelstrom Women's Tac Force 8 Inch Zipper Tactical Boots
These light weight women's tactical boots are optimal for women who are constantly moving. They come in both tan and black, so you can choose your favorite option for your style. The side has a zipper, so once they've been tied once you can easily take them off and slip them back on when you're in a rush out the door. The bottom of the boots are designed to prevent punctures on the job site, protecting your feet from harmful objects. They are also ankle high so that your ankles are protected as well. The soles are removable, allowing you to replace them with gel soles. These are some of the best tactical boots for the job.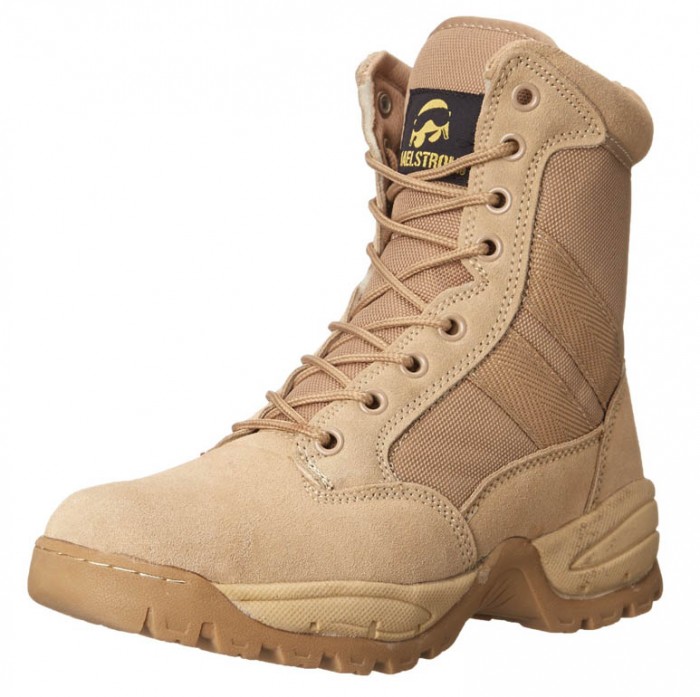 "Purchase This Product on Amazon"
Features
Textile and Leather Crafted
Imported
Rubber Soles
Shock Absorbent
Light Weight
Benefits
Durable
Comfortable
Breathable Moisture Wicking Liner For Temperature Control
Multiple Color Options
Zipper
Daily Shoes Women's Military Combat Boots
The best feature of this pair of boots is the side pocket. You can stick keys, small phones, extra cash, and credit cards into here for safe protection. The side pocket has a very tight zipper to prevent it from falling down while you work, keeping your items safe from falling out. Other than that, it's a very inexpensive pair of boots that will protect both your feet and your ankles from damage on the job site. They are tall and go to the bottom portion of your shins. These lace up combat boots for women come in a wide array of color options, with 10 options in all. These are some of the best military boots, and if you're looking for a good pair of US army boots, then this is the right option for you.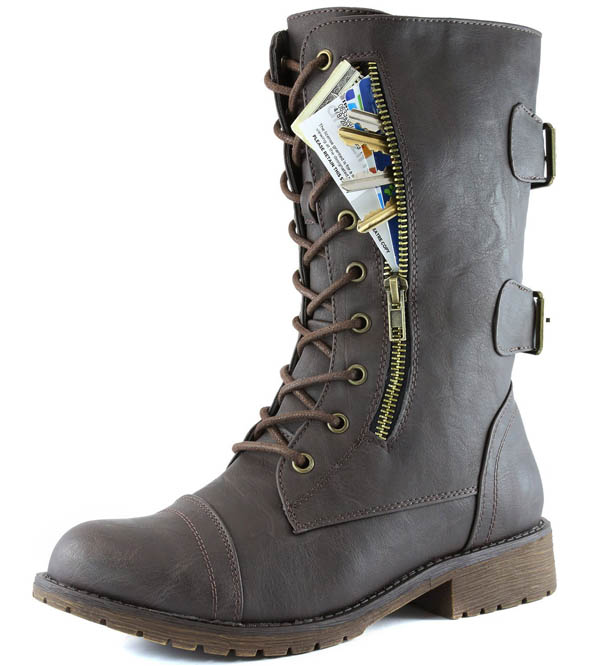 "Purchase This Product on Amazon"
Features
Rubber Sole
Side Pocket
Synthetic
Exclusive Design
Tight Zipper
Benefits
Protective
Comfortable
Durable
Wide Array of Color Options
Bogs Women's Classic Mid Boots
This is a pretty standard pair of mid calf work boots, designed to be easy to slip on and comfortable outside. These women's Bog's boots will keep your feet protected, and have a large platform to prevent punctures. They are also mainly made of rubber, so they are very easy to clean off. Through the use of anti-fungal, odor-resistant sockliner you also don't have to worry too much about infections such as athlete's foot.
These Bog's mid boots are also waterproof so that you can work in wet climates without getting wet feet. Those are temperature controlled up to -40 degrees fahrenheit. Most users recommend using them as Winter boots, as they accel over many competitors in colder weather. They are made specifically for women so that they fit comfortable on your feet.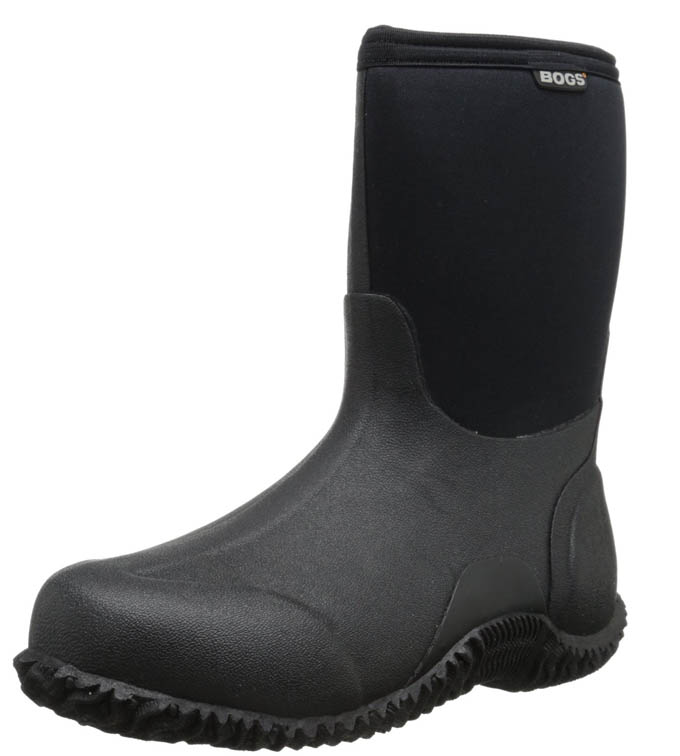 "Purchase This Product on Amazon"
Features
Rubber and Textile
Rubber Sole
Waterproof
Anti-Fungal
Temperature Controlled
Benefits
Easy to Clean
Large Platform for Foot Protection
Durable
Comfortable
Highly Rated
Conclusion
These are some of the top rated women's work boots available, and you can find them all on Amazon. This should give you a large pool of options to choose from when selecting the right work boots for you. Your job is hard enough, so pick a pair of boots that you can trust and that will keep your feet comfortable throughout the long hours of the day.