Best Logger Boots | Combination Of Safety & Performance
One of the most dangerous industries in the United States is the logging industry and as such, the emphasis on safety gear doesn't come as a surprise.
The standard stock boots just won't for anyone who works in this industry – one needs a real pair of logger boots.
Thanks to the few brands out there that design quality and reliable boots, finding one that suits you shouldn't be much of a hassle provided you know what you are looking for.


In this guide,
we break down what you need to know before embarking on your search and recommend the best logger boots in the world.
What To Look For In Logger Boots
Choosing the best logger boots may not seem necessary until you get an injury while working. These can make the difference between a serious and a minor injury.
Work safety has become a major concern what with employees being exposed to hazardous environments like greasy and wet floors as well as construction sites.
A strong foundation starts with investing in the right logger boots.
But how do you go about it?
What factors should you keep in mind in the course of your search.
Here are a few suggestions.
Safety Toes
As the name suggests, these are responsible for keeping your toes safe. They are a strict requirement in many industries and the logging industry is no exception. Safety toes are made from a variety of materials with the main choices being steel, aluminum and composite.
Steel toes are the most popular and heaviest. Due to their ability to conduct temperatures, they are not a great option for those working in cold environments. Despite being lighter than steel, aluminum toes are equally strong and a great option for someone who needs something cheaper.
The main disadvantage is that they tend to be bulky. Composite toes are usually constructed using plastic, carbon fiber or Kevlar. Their inability to conduct heat means that they can be worn through metal detectors.
Logger boots have to be tough and durable for them to meet their purpose. Unfortunately, this may mean that it will take up to a month for them to feel comfortable. That said, this is what you should look for if you need boots that you can start using immediately.
Durability
There are several things that affect how durable a work boot is. Such include the construction material, general quality as well as construction technique.There is nothing that consumers like complaining about more than boots that proved useless a few months after purchase.
Insulation And Waterproofing
Waterproof boots are an obvious necessity in the logging industry, especially if you work in snowy environments. They come in many color, size and material variations. Insulated boots, on the other hand, are designed to shield your feet against extremely cold temperatures.
You want to ensure that your boots don't have too much or too little insulation. The former will prove uncomfortable in the summer while the latter won't provide sufficient protection for your feet in the winter.
Construction Type
Many logger boots are constructed using either synthetic or leather welt, a material strip that's placed between the upper and lower sole. Boots with welt construction are the most rugged you can find and, hence, the most durable. Direct attached method is another common construction technique.
A mold is attached to the upper parts of the boot than filled with molten rubber. This helps harden the sole. Such boots are lightweight, comfortable and really good at shock absorption. The cement construction method involves use of a high strength, flexible adhesive to bond the sole to the rest of the boot.
Despite being the cheapest, lightest and most comfortable, boots made using this method are also of the lowest quality.
Additional Support
If carrying heavy objects is part of your job description, boots that provide additional support will prove useful. Look for ones with metatarsal guards. They work like safety toes but instead of protecting just the toe, they protect a larger portion of your foot. Boots with ankle and cuff support will also come in handy.
Resistance sole And Heel
It's always a good idea to purchase boots with ample slip and oil resistance. You never know when you'll be walking on a slippery surface. Good logger boots should also be puncture resistance and designed to protect your feet from nails. A heel that's at least ¾ inches high and with a bevel of 45 degrees will provide a good grip on the ladder.
Best Logger Boots Reviewed
Chippewa Men's 9-Inch Waterproof Insulated Steel-Toe EH Logger Boot
With a history that spans more than 100 years, it's safe to say that Chippewa is a pioneer in this area. The company claims to use only the best materials, construction techniques, as well as the most innovative technology. And while many brands have a tendency to make empty promises, this particular model is a testimony to Chippewa's pledge. Many refer to them as super loggers and for good reason.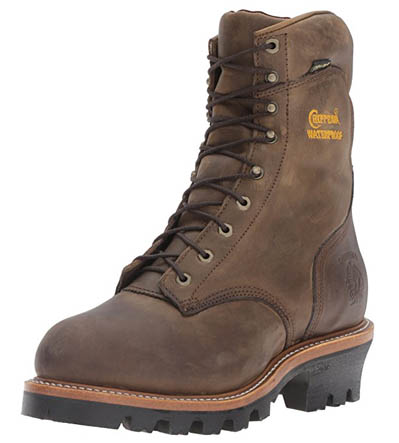 <<< Purchase This Product on Amazon >>>
They are constructed using Goodyear welt construction, making them some of the toughest available on the market. The tough lacing system combined with the triple-ribbed steel shanks makes them super supportive. Chippewa utilizes inbuilt "chip-a-tex" waterproof internal booties as well as Apache leather to make this logger boot 100% waterproof.
The interior is lined with Ruby Dri-lex 2000, which ensures that moisture and sweat wick away for blister-free feet. This also helps make the boot waterproof and more comfortable, regardless of where you work. The removable insole makes cleaning easy.
Pros
• 100% waterproof
• Durable construction
• Easy to clean
• Extremely supportive
Cons
• Expensive
Sketchers USA Men's Cascades Logger Boot
These boots are extremely comfortable, especially in hot weather. Their light yet protective materials used in their construction means that they aren't too heavy. This makes movement around the construction site and in the woods quite easy. The shock-absorbing midsole is another outstanding feature of this boot. It allows for improved comfort, especially when walking on uneven surfaces.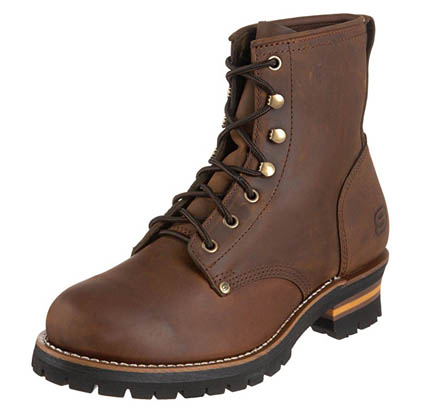 <<< Purchase This Product on Amazon >>>
Durability and protection are areas of concern when it comes to logger boots. Sketchers achieves both with several features. For starters, the rugged lug patterned traction soles provide exceptional grip as well stability each step of the way. You therefore don't have to worry about falling or tripping while wearing this boot. It is made from 100% pure leather that doesn't scratch and lasts for years, regardless of the conditions.
Other notable features include cushioned insole (for more comfort), side and heel overlays, padded tongue, soft fabric boot lining, heel pull on loop, lace up front with metal eyelets, triple reinforced seams for added durability, as well as oil resistant traction sole.
Pros
• Good cushioning
• Great stability even on uneven and slippery surfaces
• Exceptional grip thanks to rugged lug pattern traction soles
• Good waterproofing capability
• Constructed with pure leather
Cons
• Heel is too high for some users
AdTech Men's 9-Inch Logger Boot
If you are in the market for a budget logger boot that actually serves the purpose, the AdTech Men's 9-Inch is a good bet. Contrary to what you'd expect, this low priced boot is of great quality and provides value for your money. It is made from pure from leather, which is known for durability. The rubber sole provides good traction to keep you from slipping while working on slippery areas. They also provide a good grip while working on a ladder.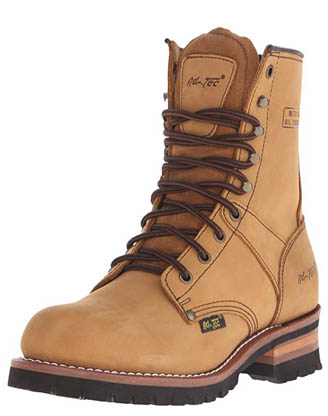 <<< Purchase This Product on Amazon >>>
While the boots aren't waterproof, the oil resistant lug outsole helps with wicking away the moisture. This logger boot also features a soft plan toe, which some may not like. The speed lacing hardware makes it easy to secure the boot to your feet, thus preventing them from falling while working.
On the downside, this boot doesn't come with an insole and given how hard it is; your feet will thank if your purchase insoles separately. In addition, the brass hooks could be a little heavier in gauge as they have a tendency of bending.
Pros
• Affordable
• Several color options
• Good balance
Cons
• AdTech is a relatively new brand
Georgia Boot Men's Loggers G7313 Work Boot
Georgia Work Boots has been designing and making quality boots since 1937 and has over the years, built a solid reputation in the industry. They have made it their goal to provide loggers, hunters as well as farmers what they need to get the job done in the most difficult conditions.
<<< Purchase This Product on Amazon >>>
The G7313 is a good example of what Georgia is all about. It is constructed from authentic American leather for durability. The special logger out sole is a much appreciated feature since it is abrasion resistant and designed to last through the worst working conditions.
The boot also features superior traction, allowing you to walk comfortably on uneven terrain. The certified steel toe means that you will be safe at work. It is built using Goodyear welt construction so you know it will serve you for years to come.
The steel shank provides additional support to the It is hard not to fall in love with this boot especially if you combine its superior features with the stud hooks and eyelets on steel washers.
The best thing about the G7313 logger boot is that it is incredibly comfortable. It makes one feel protected and well supported. This boot is one of the best options on the market as it is built to last.
Pros
• Standard leather body
• Available in two colors
• Durable construction
• Abrasion resistant outsole
Cons
• Very unpopular on the market
Men's Carolina 8-Inch 600-Grams Th insulate Insulated Steel Toe Logger Boots Copper
When it comes to producing the best logger boots, Carolina always aims at the best. This particular model is a testimony that they really push the bar in matters of design. It is the best insulated logger boot in the roundup, has unstoppable traction, provides great comfort and comes at an affordable price.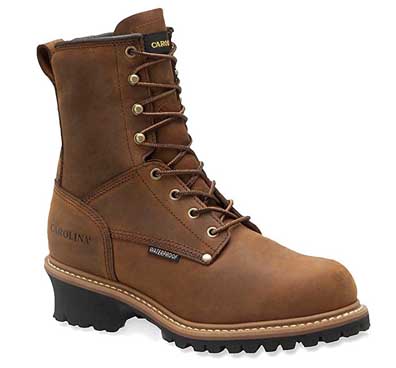 <<< Purchase This Product on Amazon >>>
Perhaps the best thing about the Carolina Men's 8-Inch is that it is packed with 600 grams of Thinsulate TM Insulation, thus allowing your feet to remain dry and comfortable when working in harsh environments.
They are constructed using leather lined welt, hence 100% waterproof. You won't find better waterproof boot on the market.
The extra long shaft allows you to keep doing your throughout the day without having to worry about your feet getting wet. The thick sole is made from durable, anti-slip rubber to prevent tripping on slippery ground.
Pros
• Thick, anti-slip rubber sole
• Comes at a great price
• Durable construction with leather lined welt
• Looks pretty good
Cons
• It's only available in one size
Conclusion
Never underestimate the importance of having the right information on your fingertips when shopping for logger boots. And while there are many things to consider choosing a pair of logger boots, our favorite is the Chippewa Men's 9-Inch Waterproof Insulated Steel-Toe EH Logger Boot for its Goodyear welt construction, waterproofing and level of support.
The Ruby Drilex-2000 interior is also a welcome addition as it provides optimum comfort by ensuring that your feet stay dry when working.