Best Lineman Boots | Choose One That Won't Make You Feel Climbing
Linemen, like many working professionals, are on their feet 10-15 hours a day. But they are not necessarily standing on the ground; they are often climbing steel electrical towers or wooden electrical poles.
Just imagine climbing the rungs of a ladder in tennis shoes. You can feel the shape of the step through the sole of your shoes, and it hurts very quickly. You wouldn't want to climb very long under those conditions.
So, What Do Linemen Need To Look For In A Boots?
Linemen look for a boot that is lightweight but sturdy (a tough combination to find).
The tongue should be extra wide and sewn to the inside of the boot. The extra tongue folds to add extra padding, and being sewn to the inside of the boot makes the boot watertight.
If the lineman climbs, he needs a boot that will not be chewed up by steel towers.
A solid steel sole provides support and protection against steel ladders.
A false tongue laces inside the gusset to provide additional padding and protect the shoelaces from rubbing and fraying.
Select a boot a half-size larger than you normally wear if you live in a cold-weather climate so you can add a second pair of socks and/or foot warmers during sub-zero weather.
Add a boot dryer to your purchase so you can dry the boots out before you wear them again.
Line boots usually have higher heels and are heavy. Good boots for working on the ground are lighter with shorter heels.
Check with your employer on whether you need steel toes or composite toes in your boots.
You may also be required to have boots rated for electrical shock prevention.
Cost Versus Quality
Linemen work long days, especially when they are responding to major storms. They can't sit down and they can't afford to work in pain. Inferior quality and poor fit can lead to time off from work, lower productivity when on the job, and less longevity as people leave the profession due to injury.
There are major differences between inexpensive boots and their more expensive counterparts made and designed specifically for linemen. If you care for a quality pair of boots, they should last at least three to five years before they begin to show wear. Inferior, less expensive boots may need to be replaced within months of purchase, and you may already be suffering the physical ailments mentioned above.
Quality boots can be repaired to a like-new condition more than one time if you continuously care for the uppers. The repairs cost around $200. Now you have up to five additional years for half the price. You may be able to keep a good pair of boots for up to 10 or 15 years with care and restoration as needed.
So, let's compare costs over a ten-year period:
Quality Boots (assuming you rebuild the boots twice): $500 + $200 + $200 = $900 over ten years.
Discount Boots (assuming you only need to replace them once a year): $150 x 10 = $1,500, plus time off work and medical bills for physical ailments you will probably incur during ten years using the wrong boots.
Caring for Handmade Line Boots
Proper care of handmade boots will add years to the life of your boots. Like washing and waxing your new car will prolong the life of the paint finish, caring for the leather uppers of your boots will lead to years of extra life.
The most destructive medium linemen encounter is mud. When you allow mud to dry on leather, the oil seeps out. Dry leather will crack at all hinge points. So, if you come home from work with mud on your boots, take the time to rinse the mud off. Note that you should never use any kind of soap on leather. Water is usually all you will need; but if you need more, mix some baking soda and water.
Towel dry your boots, then stuff the inside of the boot with newspaper.
Next, apply a protective wax made specifically for leather (Natural Bees Wax was suggested. Bees Wax is used to waterproof as well as fight bacteria, mold and fungus). Melt the wax in the microwave, and paint it on the boots. Make sure you liberally coat the seams. Don't forget to coat the heel and sole as well. After coating the second boot, return to the first boot and rub the wax into the leather with your fingers.
The first time you do this, your boots may be very thirsty. If the finish has a flat matte look after rubbing the wax in with your fingers, repeat the entire process until the finish has a smooth luster.
Waxing leather retains the waterproof finish and makes the boot more flexible and comfortable to wear. Care for your boots frequently and always after cleaning mud off the leather.
What are the Advantages of Handmade Line Boots?
As with all purchases, you get what you pay for. If you pay $20 for a pair of shoes, they usually make your feet and back hurt and fall apart in a matter of weeks. Following are three reasons to consider your boots part of your required equipment.
Boots that do not provide the right support and that break down while you're wearing them lead to very serious physical problems. These include tendonitis and shin splints, knee and hip replacement, and improperly aligned vertebrae. You can end up working in severe pain and losing time from work. These medical costs and lost wages will quickly cost thousands of dollars, much more than a good pair of handmade line boots.
The steel toes and soles prevent injuries.
Waterproof boots keep your feet dry in cold damp conditions, preventing illnesses related to adverse weather.
Attributes that Differentiate One Line Boot from Another
Three differences in top-quality line boots are:
Weight, due to the amount of steel used to reinforce the toes and sole; however, that steel may be the difference between life and death, depending on the job you perform.
Some line boots are made for colder climates and others are not.
The soles on some boots are designed to withstand climbing steel ladders, while others are made lighter for running after materials on the ground. Be sure to select the one that suits your job assignment.
Best Lineman Boots Review
Hoffman Dri-Line 10" Composite Boots
The Hoffman Dri-Line 10" Composite boot is rated for both safety toe and electrical shock. Steel shanks provide excellent support when climbing poles. The uppers are all leather, and a water-resistant liner makes these boots the perfect foot support during rain. Linemen report they have stood in water over the top of their boots and no water has seeped in.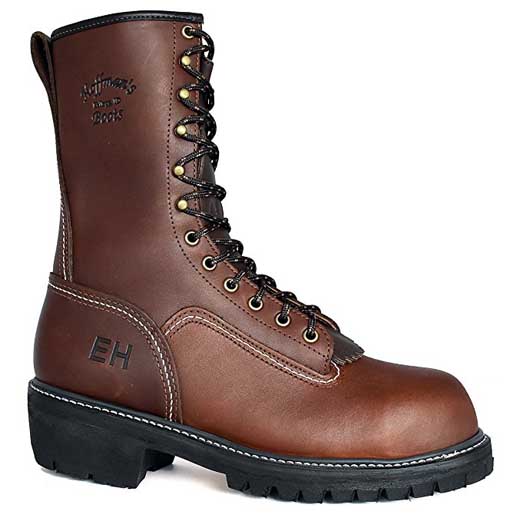 <<< Purchase This Product on Amazon >>>
Pros
Cons
· Triple lockstitched seams
· Not good for ground work
· 2 steel shanks
· Will get chewed up on steel
· Thick outer sole
· Intermediate price
· Warm in cold weather
· Heavier than Wescos
· Waterproof
· Double steel shank for climbing
· Composite toe
· D, E and EEE widths available
Wesco Highliner 10" Lineman Work Boots
Many linemen consider the Wesco Highliner "the boot to beat" in the lineman boot industry. They contain every extra available for comfort and protection, and they can take the abuse of climbing poles daily for years. Wesco boots can be repaired and rebuilt for a second and third time when you take proper care the uppers. Clean mud off immediately and wax on a regular basis, and you can get years of wear from one pair of Wesco Highliners.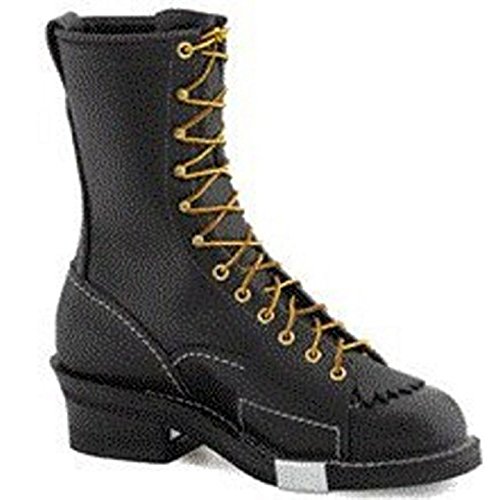 <<< Purchase This Product on Amazon >>>
Pros
Cons
· Comfortable
· Not good for ground work
· Accurate Fit
· Will get chewed up climbing on steel
· Great for climbing
· Cost
· Ergonomic
· Light weight
· Steel shaft for climbing
· Leather side flap
· Removable false tongue
· Steel shank is slightly arched for support and comfort
· Leather half-strip in arch for added support
· Metal breastplate in the heel protects against climbing spurs
· D and E widths available
Carolina Composite Toe Logger Boots
The Carolina Composite Toe Logger Boots are built for loggers who need water protection, comfort and support. They do have a composite safety toe; however, if your employer requires steel toe boots, these will not make the cut. If you are looking for a product made in America, this may not be the one either. Reviewers are mixed on the sizing and comfort of these boots, so be sure to read reviews and make sure you can return the boots if you buy them and don't like them.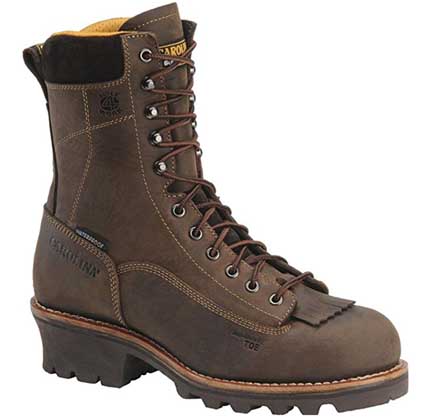 <<< Purchase This Product on Amazon >>>
Pros

Cons

· Composite safety toe cap
· No steel toe
· Leather uppers
· Made in Vietnam
· Lug-sole soles
· Not insulated
· 8" shaft
· Run narrow
· Waterproof membrane
· AG7 Polyurethane Foot bed is removeable
· Rated for Electrical Hazard
· Heavy Duty Steel Linesman Shank
· D and E widths available
Danner Mens 400G Logger Boots
Customers report the Danner Mens 400G Logger Boots are very comfortable. The lightweight Bi Fit board offers extra support in the sole without adding the extra weight of steel. These boots are insulated, so you may be warm if you live in a southern state. Note that they are imported for those who are no-exception "Made in America" fans.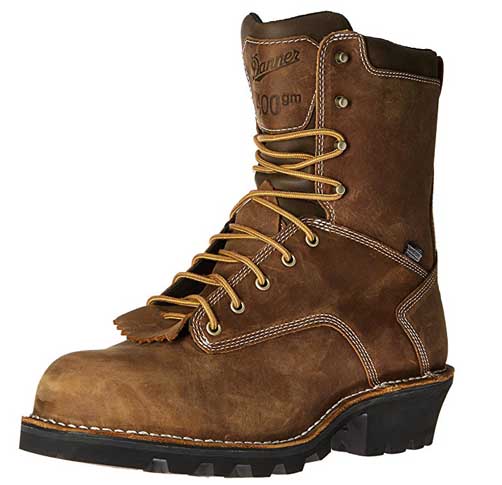 <<< Purchase This Product on Amazon >>>
Pros

Cons

· Nubuck leather
· Imported
· Rubber sole
· Less expensive
· 10.5" shaft
· No steel toe
· Danner Dry Waterproof protection
· Lightweight Bi Fit board
· 400G Thinsulate Ultra insulation
· Non-steel toe meets or exceeds ASTM F2413-11 M I/75 C/75 EH standards
Ariat Powerline Industrial Boots
The Ariat Powerline Industrial Boots are made more for ground work than climbing. They have Lug Sole soles, which are made from thick rubber. They do not have steel shanks or steel toes if those are required by your employer. Ariat claims the Lug Sole material offers extra stability in wet conditions. They do have a composite safety toe and are rated for electrical hazards. These boots would be great if your job requires working on the ground; however, they may not work for climbing.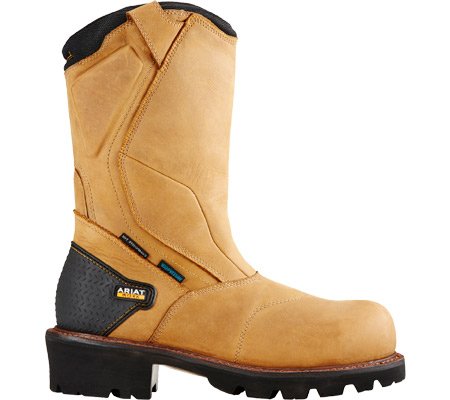 <<< Purchase This Product on Amazon >>>
Pros

Cons

· Leather uppers
· Mid-price range
· Lug Sole soles (thick rubber sole)
· No steel toes or shanks
· Ariat's "Advanced Torque Stability Pro" technology
· Composite toe
· Rated for ASTM electrical hazard
· Oil and slip resistant
· Waterproof
Conclusion
Boots for linemen are not a fashion statement; they are safety equipment. A wrong decision can carry serious consequences.
My personal choice for linemen who climb is the Wesco High liner Work Boot. I favor American-made products, and Wesco's have been made here in the USA for many years. They have clearly considered the comfort and productivity of linemen in the field. Every attempt has been made to keep linemen safe and on the job.
If I were buying boots for ground work, I would consider the Huffman Dri Line which is also an American-made product. They are well built and stable on the ground. However, check to make sure composite toes are acceptable at your workplace.
It is our hope that the information in this guide will be helpful as you look for the best safety boots available.