8 Best Kitchen Shoes For Chefs (Updated 2022)
As one can imagine, The job of a chef does not include time to sit and relax. A chef may regularly work 12-16 hour days, all standing or walking. That's why, In addition to curiosity, creativity, and commitment, a great chef must have an exceptional pair of shoes. The best chef shoes offer superior comfort, support, and durability.
Quick Answer: What Shoes Do Chefs Wear?
Top 8 Shoes For Kitchen Workers: Detailed Reviews
Merrell Men's Jungle Moc Pro Grip Work Shoe
Merrell Men's J61127, Black, 13 M US
This moc-style slip-on work shoe made of nubuck leather and rubber soles is extremely popular with kitchen and healthcare workers. The smooth finish looks great with either jeans or slacks.
Merrell uses a special fatigue-fighting cushioning, and most reviewers describe Merrell's Moc Pro Grip as the most comfortable shoe they have ever worn
| | |
| --- | --- |
| Pros: | Cons: |
| Lightweight | Fit Varies |
| Good Support | The sole pulls loose from the shoe |
| Metal Detector Friendly | Tight at ankles |
| Waterproof | Noisy when walking |
| Easy on/off | Not breathable |
| Nubuck Leather | |
These shoes have been designed to provide exceptional traction and superior grip. The cutting-edge tread design has a unique pattern with specialized grooves to channel liquids away and leave no marks on the floor.
The Moc Pro Grip comes in multiple colors. The padded collar design provides comfort and padding around the ankle.
Slip-on shoes slip off and on easily when you travel and do not cause issues with metal detectors. If you're looking for a superior kitchen shoe for men, this is a great choice.
Why Should A Chef Buy An Exceptional Pair Of Shoes?
Physical Ailments
Standing on your feet for prolonged periods of time can lead to many physical ailments, including fatigue and pain, and swelling in your back and legs.
This can lead to problems with your circulatory system as well as increase your risk of developing a condition known as varicose veins.
Accidental Injury
Slips and falls are the number one cause of accidental injury in restaurants. Studies show that 24% of all slip and fall injuries can be directly linked to improper footwear.
Since slip-resistant shoes entered the market, there has been a 50% decrease in this type of accident.
Secondary to physical injuries sustained by falling on a concrete floor are burn injuries sustained when you fall while carrying a pan full of hot food.
The person who falls may sustain a burn injury as well as colleagues who may be close enough to be hit by the falling debris.
Comfort
Chefs work long hours, but properly designed shoes can make them feel shorter. Arch supports should match the arch in your foot.
Many of the best chef shoes today have a memory foam insole that provides both arch support and cushion at the same time, preventing heel spurs, plantar fasciitis, and other common foot problems.
Shoes made from a breathable material will help prevent open sores and fungal infections that come with trapped sweat.
What Should You Look For To Find The Best Kitchen Shoes Available?
Arch Supports
Everyone who walks or stands for long periods of time should use arch support, but not all arch supports are the same.
They come in low, medium, and high support, and you must match the arch in your feet to the arch support. If someone with flat feet tries to use a shoe with high arch support, they can do damage to the metatarsals.
Adding arch support to your shoe will take up some of the space inside your shoe.
You may need a half-size larger to accommodate for the room taken up by the insole; so try them on, tighten them, walk in them, be sure your toes have room, and do not touch the ends of the shoes.
Protection
Dropping hot foods, heavy pans, and cooking knives can cause damage to the bones and skin on the feet. Therefore, shoes with a composite toe or steel toe should be worn for protection. Slip-resistant shoes with deep grooves serve best to prevent slipping and falling.
Comfort
Thick platform soles and comfortable padded insoles and heels add some spring to your step. Material that breathes will allow air to circulate around your feet and prevent moisture-related ailments like blisters and fungal infections.
Appearance
Many chefs go out to the dining room to greet guests. They need a shoe that feels comfortable all day and looks great, too. A stain-resistant upper will prevent drops and spills from forming a permanent stain. Never pick a chef shoe solely based on appearance. Meet the other criteria first and then take appearance into consideration.
Laces vs. Slip-Ons
Some people prefer lace-up shoes; however, in a work environment, they can present a slip-and-fall hazard should they come untied. There is also a sanitary consideration if you stop to tie a shoe and fail to wash your hands afterward.
Weight
Because a chef works long hours, look for the above characteristics in the lightest and most flexible shoe available. You want the shoe to bend with you when you reach for something overhead.
The Q-Angle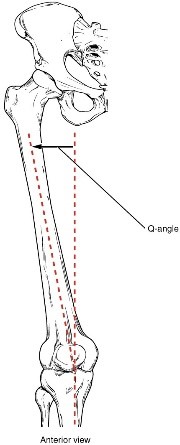 The angle of the muscle from your quadricep to the kneecap is called the Q-Angle. This angle controls the movement of the connective tissue, bones, and joints in your feet.
If you overpronate, most of your weight is positioned over the inside of your foot. If you under pronate, most of your weight is positioned over the outside of your foot.
Either pronation can cause pain in the hips and joints. The best kitchen shoes for women take pronation into account.
Best Shoes For Kitchen Work
Skechers for Work Men's Flex Advantage Slip Resistant Mcallen Slip On
The Mcallen Slip On comes in a mesh fabric upper and a synthetic fabric upper, offering one style that is more breathable and another that is more business-like. It has the appearance of a very comfortable knock-around shoe and is highly applauded for its comfortable memory foam insole.
The relaxed fit of this shoe offers a good alternative for those with wide feet; however, those with long, slim feet may find them too loose for comfort.
While the Mcallen Slip On does have a frequently recommended slip-resistant sole, it does not have a safety toe. The synthetic uppers will not last as long as a leather upper, so do not buy these shoes if you expect to wear them for a long time.
If you are looking for a more casual look with a great slip-resistant sole, this shoe may be for you.
"Purchase This Product on Amazon"
| | |
| --- | --- |
| Pros | Cons |
| | Synthetic uppers and soles |
| | |
| | Reports of soles separating from the shoe |
| | |
| | |
| | |
| | |
Skechers for Work Men's Rockland Systemic Slip Resistant Lace-Up Shoe
Skechers Systemic shoes are lace-up work shoes with smooth leather uppers, rubber slip-resistant soles, and stitching and overlay accents. The removable insoles included with the Systemic may not meet the comfort requirements of people who work on their feet several hours a day.
While the rubber soles receive accolades for their slip-resistant performance, there are no reinforced safety toes. If you are looking for a lace-up work shoe with slip-resistant soles, this shoe may be a great choice.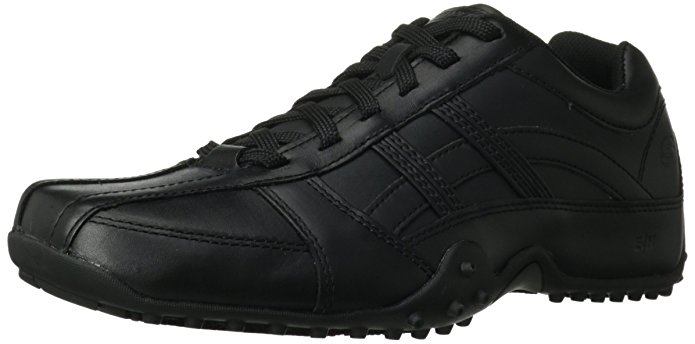 "Purchase This Product on Amazon"
| | |
| --- | --- |
| Pros | Cons |
| | |
| | |
| | Require additional insole for comfort |
| | |
| | |
Best Chef Shoes for Women
Skechers for Work Women's Soft Stride-Softie Slip Resistant Lace-Up
Skechers' Softie Work Shoes are made for women who need shoes with an OSHA-compliant slip-resistant rubber sole.
The soft, flexible leather uppers of the Softie boast a casual lace-up design. Removable comfort insoles allow the wearer to replace them when necessary. Accents found on each side of the leather uppers are not just decorations, but allow ventilation into the shoe. Available in wide widths, these shoes provide an affordable work shoe for the hospitality and healthcare industries.
If you only need slip-resistant shoes and not reinforced toes, and if you can wear a more casual style of shoe to work, these may be your favorite shoe.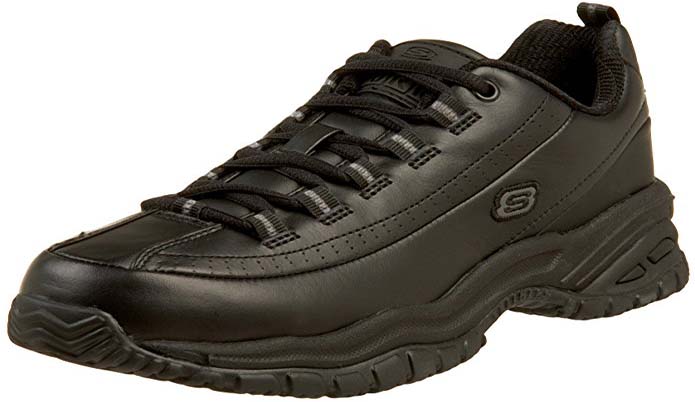 "Purchase This Product on Amazon"
Dansko Women's Professional Mule
With 57 color themes to choose from, the Dansko Women's Professional Mule offers something for everyone. The synthetic platform sole measures 0.75 inches and with a heel measurement of 1.75 inches.
A roomy reinforced toe offers extra protection, while a wide rocker bottom adds shock-absorbing comfort and stability to the polyurethane sole. The exceptional arch supports in the Dansko Mule provide comfort and support all day, and you can walk in luxury with the padded instep collar. Temperature control is offered by a breathable PU foam footbed.
If you are looking for an exceptional work shoe with pizzazz, the Dansko Women's Professional Mule just may be for you.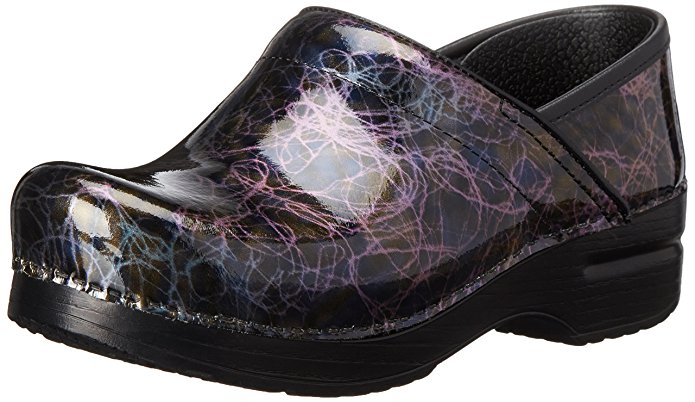 "Purchase This Product on Amazon"
| | |
| --- | --- |
| Pros | Cons |
| | Follow the size chart it comes with |
| Polyurethane soles with rocker's bottom | |
| | |
| | |
| | |
| | |
| | |
| | |
Crocs Women's Specialist Vent Clogs
Crocs Vent Clogs are Crocs' work shoes, designed with a closed heel and toe to meet the rigid standards of today's workplace shoes.
Croslite, an odor-resistant Crocs exclusive material, shapes to form a custom fit, and their arch supports are enhanced to provide comfort all day. Tiny nubs on the footbed perform like an all-day massage.
The intentionally loose fit of the Vent Clogs allows the bones and muscles of the foot to perform naturally inside the shoe. Thicker protection added over the metatarsal area provides protection to the top of the foot. You can find Vent Clogs in multiple colors, and the uppers are easy to clean and sanitize using water and bleach.
If you like a little extra bling, the back strap is designed to be decorated with Jibbitz charms.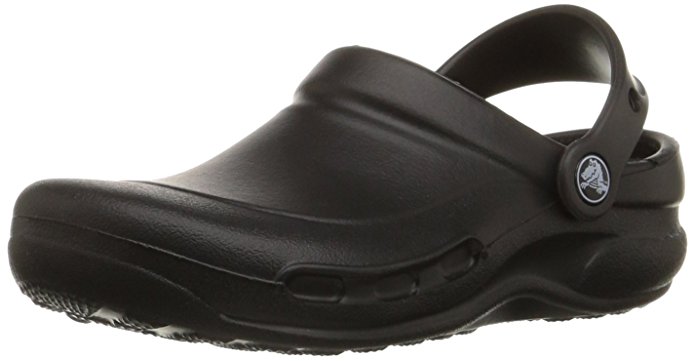 "Purchase This Product on Amazon"
| | |
| --- | --- |
| Pros | Cons |
| | Sizing without trying on is tricky |
| Polyurethane soles with rocker's bottom | |
| | |
| | |
| | |
| | |
| | |
| | |
Best Shoes for Kitchen Work – Unisex
Crocs Unisex Bistro Clog
Crocs designed The Bistro with food service workers in mind. The Crocs Lock tread meets the slip-resistant standards of the ASTM, and cleaning is easy with soap and water. The closed-toe design and thicker construction over the metatarsal help protect from spills.
The interior of The Bistro includes the Crocs' Croslite material that shapes your foot and their massaging footbed design.
The absence of ventilation, arch supports, and a soft lining may make this shoe unsuitable to meet the needs of someone working long hours on their feet.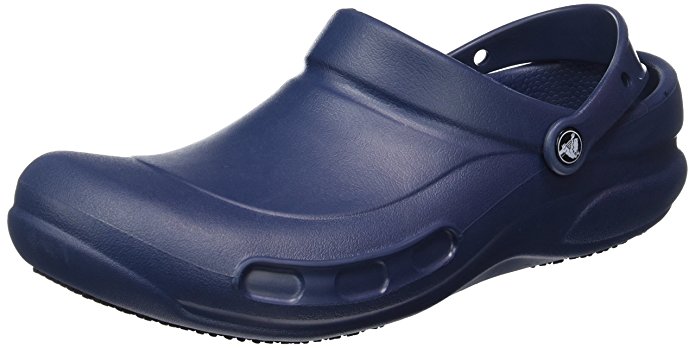 "Purchase This Product on Amazon"
Crocs Unisex Bistro Batali Edition Clog
The Bistro Batali Edition Clog was designed to meet the needs of the food service, hospitality, and healthcare industries. The Crocs Lock tread goes above and beyond industry expectations.
An enclosed toe and extra thick material over the metatarsal provide protection from spills; but when spills happen, a quick wipe with soap and water will clean them very nicely. Inside the croc, the classic Croc Croslite material is designed to wrap itself around the foot to provide cushion and comfort.
The Bistro Batali clog offers an affordable option for those who work on their feet for long periods of time.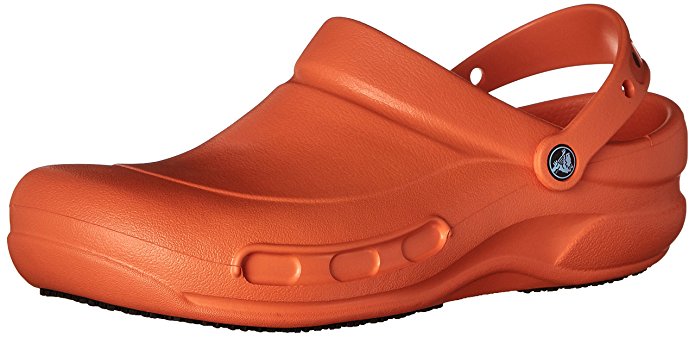 "Purchase This Product on Amazon"
| | |
| --- | --- |
| Pros | Cons |
| | |
| | |
| | |
| Opti-Flex Zone (flexibility) | |
| | Reports of tread coming off |
| | |
| | |
Conclusion
In looking at the eight shoes we have reviewed in this article, the one shoe that stands out above the rest is the Dansko Women's Professional Lightning Patent.
This shoe ticks off all the boxes for a great work shoe, including slip-resistance, reinforced toe, shock-absorbing soles, breathable tops, exceptional arch control, and comfort.
In addition, you can choose from 57 colors and styles. Dansko clearly had their customers' needs in mind when they created this line of shoes.