Best Ems Duty Boots: Your Ultimate Working Companion
First responders wear EMS duty boots regularly to protect against pathogens, water, sharp or broken objects, and more.
Boots are a foot saving, and sometimes lifesaving, requirement within the world of first responders.
So let's compare a handful of EMS work boots and their features.
It is important to know what to look for when you are searching for boots, and that starts with understanding regulations and testing standards.
As any architect or firefighter will tell you: structures are only as good as their foundation.
For this reason,
EMS responders need to have great footwear. Long hours working on the job, exposure to physical hazards, and miles trekked across hard floors take their physical toll on feet.
How To Picking the Right Ems Boots
Picking the best EMS boots starts with ensuring the boots comply with regulations. OSHA Regulation 1910.136 state that employers are responsible for providing protective footwear for employees who are assigned work in areas with piercing, rolling, or falling objects that could injury the foot or where their feet are exposed to electrical hazards.
OSHA recommends adhering to American Society for Testing and Materials guidelines for protective footwear. OSHA establishes guidelines but they do not test products.
So pick products that comply with the ASTM Standard F2413-05 (formerly known as the American National Standards Institute's Z41-1999).
This standard defines the design, testing, performance, and testing for boots.
Footwear meeting the ASTM F2413-05 must meet the minimum requirements of Section 5.1 Impact Resistant Footwear and Section 5.2 Compression Resistant Footwear.
Test Standards
Protective footwear qualifies for ASTM standards as long as it first complies with compression resistance and impact requirements. Boots tested must have a marking with the specific part of the standard to which they comply. Each shoe must be marked clearly, often with a stamp, pressure-sensitive label or stitching on the surface of the tongue, the quarter lining, the gusset, or the shaft.
If you see the letters F2413, that is a reference to the boot performance requirement.
The digits which follow that standard are indicative of the year that footwear was tested and found compliant.
For example: if you see F241305 that means it was tested in 2005. Knowing that year it was tested can help you keep apprise to any changes in the regulations and determine whether the boots meet newer standards.
Impact Resistance
EMS boots are tested to meet one of two measurements for their impact resistance. They will receive a rating of either 50 or 75, a figure determined by dropping a weight from a pre-determined height at a specific speed onto the toe cap. Impact ratings which say I/50 means the boots can withstand up to 50 pounds. Impact ratings of I/75 means the boot can withstand direct impact up to 75 pounds.
Compression Testing
The compression test applies a sustained load onto the toe, at designated numbers of pounds, until the toe cap begins to crack or crumble. Safety-toe boots are tested much the same, to one of two measurements for their compression resistance. Compression ratings of C/50 means the boots can withstand a compressive load up to 1,750 pounds. Compression ratings of C/75 means the boots can withstand a compressive load up to 2,500 pounds.
Steel or Composite Toe Cap
Steel toed boots are the most common choice for toe protection because they have been around the longest. Moreover, they are often less expensive compared to composite. The amount of compression steel toed boots can resist is contingent upon the manufacturer, industry standards in the area it was produced, and buyer demand.
Safety footwear manufacturers use composite materials like polymers in the toe because the strength is comparable to steel but the weight is much lighter. Composite designs meet the minimum OSHA requirements but they are up to 30% lighter. Composite also does not conduct heat like steel, so during winter, more heat is kept inside the feet.
Other Considerations:
Steel and composite options are manufactured to do more than protect your toes from compression. Steel-toed boots and those with the extra plate protect all of the bones in the foot.
Static dissipative and conductive shoes help protect you against static electricity while simultaneously protecting toes. Electrical hazard resistance protects against open electrical circuits and fire. While these are important for EMS first responders, what is more important is the slip-resistant element.
Slippery environments are commonplace for first responder work sites which is why boots need this element to protect your feet against slippery surfaces caused by oil spills, water, and the leakage of other wet substances.
Tangentially, it is imperative to have shoes that are designed to protect against microbes and bacteria, especially when worn for a long period of time. Such measures keep the feet from infections present at job sites. Puncture-resistant elements protect feet from sharp objects like nails sticking out at a response site.
Review of Recommended Products
Maelstrom Men's Tac Force 8 Inch Zipper Tactical Boot
These tough, tactical boots are well known for their design. The upper toe cap is polishable leather and nylon while the toe and heel have thermoplastic board reinforcement.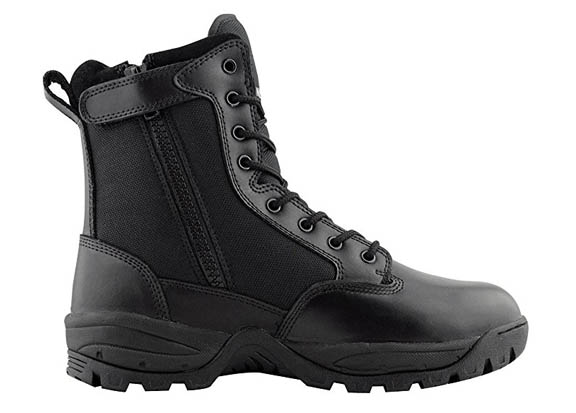 <<< Purchase This Product on Amazon >>>
Pros:
Collar and tongue are padded for extra comfort.
The upper sections are polishable leather and nylon, durable, flexible, and uniform code.
The insole is removable, offering superior cushioning and made from high performance polyurethane.
The toe and heel reinforcement is made of thermoplastic board which retains shape and rigidity.
The shank is composite, for lateral support and stability.
The midsole is compression molded polyurethane which makes it shock absorbing, lightweight, and flexible.
The side zippers are YKK heavy duty with a closure for fast removal.
The laces are non-fray thread and the lacing system has rust-proof metallic eyelets.
The liner is moisture wicking, anti-microbial, and breathable.
The construction for the toe cap is athletic cemented toe stitched for extended durability.
The outsole is crafted from slip and oil-resistant rubber.
Cons:
There is no available information on the ratings for compression or impact resistance.
They are only available in black or tan.
Bates Men's Ultra-Lites 8 Inches Tactical Sport Side-Zip Boot
Bates is a popular work boot company. In fact, the company supplies footwear to the U.S. Department of Defense, clearly making it a long term adherer to OSHA regulations.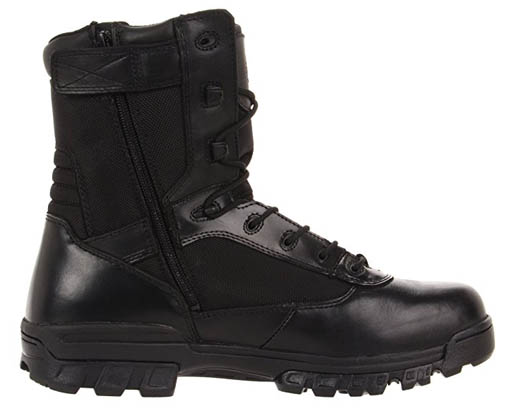 <<< Purchase This Product on Amazon >>>
Pros:
The shoes are non-metallic. They are undetectable in electronic survey environments and are assembled in the U.S.
The boots have passed the SATRA WTM 144 test for slip resistance. That said, the outsole is crafted from slip and oil-resistant rubber.
Made of rubber, the outsole is 30% lighter than previous models.
They have a mesh lining for breathability.
The boots have a nylon side zipper purportedly to make it easier to put on or take off the boots.
The cushioned insert is removable so comfort can be controlled by the wearer.
The upper part of the boot is made from durable leather and 1680 denier ballistic nylon.
Cons:
Not waterproof.
Quite loud on certain surfaces.
The vinyl cuff and nylon side will rip apart easily.
5.11 Men's A.T.A.C. Storm 8″ Side Zip Boot
These boots are popular because they have a long lasting design, and they can withstand hours of hard athletic use daily without compromising. Perfect for people on a job site for hours at a time.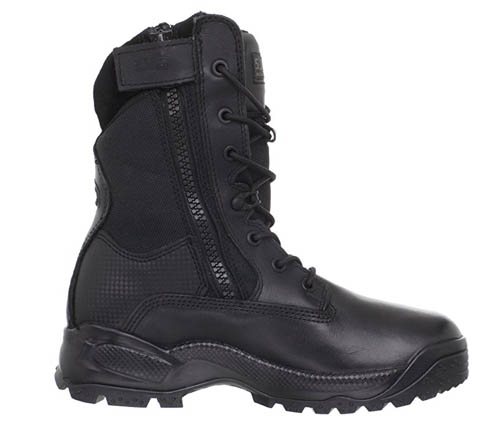 <<< Purchase This Product on Amazon >>>
Pros:
They have a cushioned ortholite insole.
The shoes are made with 1200 denier Cordura nylon side panels.
The sole is synthetic.
The lining is anti-bacterial drilex affording extra protection not only from bacteria growth inside the boots when worn for a long period of time, but from elements in the work environments.
There is a hidden side pocket on the boots for secret storage.
The boots boast triple stitching and prone position grip making them ideal for multiple tactical environments.
Injection molded phylon midsole gives extra support.
The toe case is semi-rigid, as is the heel reinforcement.
The outsole is rated for slip and oil resistance.
The zippers are YKK.
The boots have the proprietary 5.11 Shock Mitigation System.
The boots are full grain leather.
Cons:
Water resistant not waterproof, which really means you can wear them while walking through wet grass without getting wet, but not submerge them in water.
The size zippers are likely the first to fail and will fall apart while the rest of the shoe remains intact.
Under Armour Men's Stellar Tactical Boots
These boots are a comfortable option for people who enjoy having extra anti-microbial support, something that is often important in cases where you wear the shoes often for long periods of time.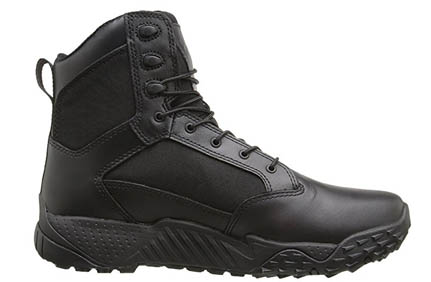 <<< Purchase This Product on Amazon >>>
Pros:
They are lightweight, made with reinforced TPU Shank.
The boots are water resistant.
The upper part of the boot is crafted from DWR treated leather and 900D nylon.
They have an anti-microbial ortholite sock liner.
The midsole is molded with extra support and protection.
The lug sole is low profile rubber.
These are imported boots whose shaft measures just over ankle height.
The toe case is polishable.
The boots boast a quick dry minimalist design.
Con:
They do not have a reinforced steel toe.
These are not available in EMS boots womens sizes.
Thorogood Men's 8" Side Zip Jump Boot Gen-flex
Thorogood is a popular design for heavy heat situations given the special wicking structure. Moreover, the spacer mesh lining gives increased breath ability. Ideal for people on a job site.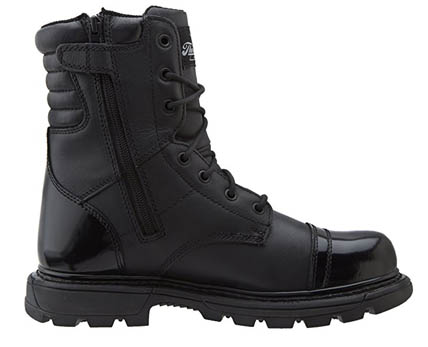 <<< Purchase This Product on Amazon >>>
Pros:
The exterior of the boots is made from oil-tanned leather.
The Dri-Lex Aero-Spacer lining will wick away moisture that keeps feet dry.
The boots are abrasion resistant, with Goodyear welt construction.
These boots have a platform which measures approximately one inch.
They have a high shine polished toe cap and heel counter.
The boots are ankle height.
Size zipper makes it easier to get on and take off.
There is a non-marketing GEN-EX dual-density rubber lug that is slip resistant.
The midsole is crafted from shock-absorbing EVA.
The inner cushion is made from Dual-density polyurethane and is removable.
The zipper is YKK with a VELCRO brand closure over the zipper for extra stability.
The outsole is crafted from rubber making it slip-resistant and non-marking.
Cons:
They do not have a steel toe.
Only available in black.
Conclusion
The 5.11 Men's A.T.A.C. Storm 8″ Side Zip Boot appear to have the strongest durability and resistance. This set of the most comfortable EMS boots is the obvious winner insofar as it complies with the OSHA standards and is crafted from a composite material.
As such, it is more lightweight by comparison, but still offers the same compression and impact resistance that a professional needs on site.
Moreover, these boots can protect against water and sharp objects, two of the most important elements for those on an otherwise dangerous work site.
Comfortable to wear for long periods of time thanks to the cushioned ortholite insole, they also protect feet with the anti-bacterial drilex lining. The only boots with a hidden pocket, they give extra security and protection.
Moreover, the semi-rigid reinforcement in the toe and heel compounded by the proprietary 5.11 Shock Mitigation System mean you can wear them during hard athletic exercises or training without compromising comfort.
You get extra protection and shock absorption for your knees in conjunction to the peace of mind that you can skid along an oil surface without risk of falling or injuring yourself.