Top 5 Boot Dryer Reviews (Updated 2021)

We put our bodies through a grueling amount of work and stress every day. When your extremities such as your feet or hands are not happy, your entire day and ability to function are severely affected.
Working in conditions that are continually wet and miserable for your body can trigger a tremendous amount of physical problems and functioning issues.
When involved in these damp environments on a regular basis the feet and hands need to be kept dry and warm to avoid the pain and suffering brought on by these moist conditions.
Investing in a quality boot dryer or glove dryer will ensure that your protective wear is dry and ready to go to work when you are.
Related :
There are many different types and brands of dryers available, which often makes the purchasing decision a difficult one.
However, if you use the information provided by these dryers, you will be able to determine which boot and shoe dryer is best for your unique situation.
PEET Dryer, Original 2 Boot Electric Dryer
This powerful peet m97-fsb work boot dryer is perfect for the quick drying of a single pair of boots, shoes, or gloves; usually in about an hour's time.
Highly portable and user-friendly, this peet dryer offers patented Air-Chambers that eliminate odors and bacteria from boots and shoes as they dry.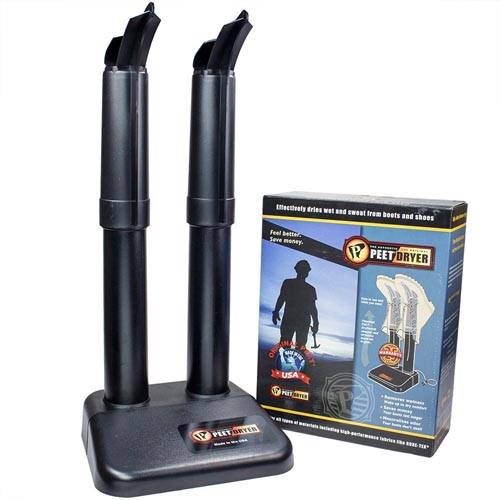 "Purchase This Product on Amazon"
Experience the peet dryer advantage with bonuses such as:
This dryer is constructed of fire retardant materials that give extra protection against the igniting of a fire in dangerous and heated situations concerning the heater.
The patented Air Chambers of this drying system assure even and gentle drying throughout the wet boots, shoes, or gloves; reaching all of the ways to the deepest interior areas of the items to assure complete drying.
The silent operation of this unit allows for shoe or boot drying in nearly any location without disruption to the surroundings or nearby people.
This work boot dryer neutralizes odors and bacteria with patented Dry Port technology and circulating air patterns. This keeps the inside of the boot or shoe free of fungus, mold, mildew, and bacteria. This will ensure the health of your feet in continually wet conditions.
This dryer lengthens the life of boots and shoes by keeping mold and mildew at bay. The gentle drying of these items ensures that there is no internal moisture left behind to create bacteria or dangerous fungus.
MaxxDry Heavy-Duty Dryer

This maxxdry dryer is a multi-port drying station that is capable of handling the load as a boot & glove dryer in one 6.4 pound unit.
The maxxdry boot dryer is powerful enough to handle the drying needs of both boots and gloves in as little as an hour.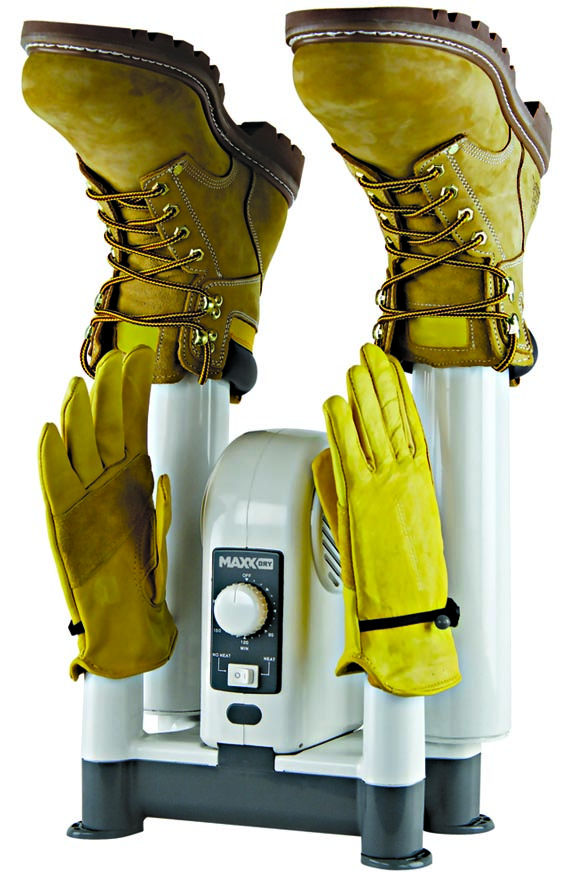 "Purchase This Product on Amazon"
The portable maxxdry heavy duty boot dryer drying station is full of benefits including:
This dryer comes from China.
This dryer can dry four garments at a time, which saves time and energy.
This unit has 80,000 hours of ball-bearing motor operation capabilities.
Safety is the focus of this fully UL-listed dryer.
This drying technology eliminates odor and bacteria that can form inside wet shoes, boots, or gloves.
21-inch dryers can effectively dry multiple types of boots.
MaxxDry Boot Dryer
The maxxdry dryer works without a motor to quietly evaporate the moisture from any kind of wet boot.
The compact size of the maxxdry sd allows the user to easily transport the unit for convenient overnight drying of boots, shoes, or socks. The maxxdry sd boot dryer works silently overnight to dry items while you sleep.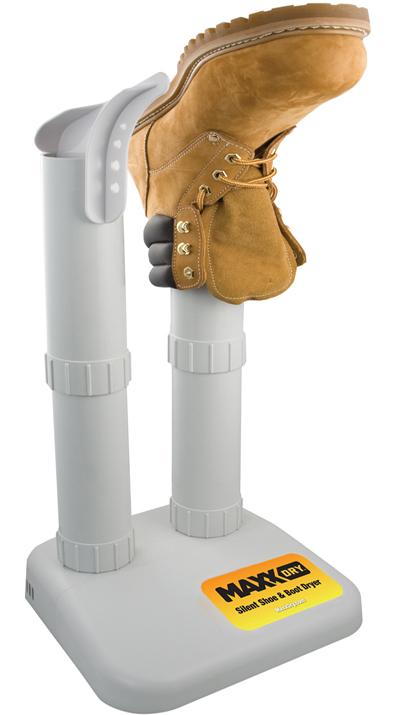 "Purchase This Product on Amazon"
In this maxxdry boot dryer review, this dryer lists benefits such as:
Lightweight 2.8 pounds can be transported easily to any location.
Uses safe and proven thermal convection for even drying instead of a heated application.
The silent operation will not disturb users who need to be in the same location as the boot dryer.
The design and technology of these boot dryers are safe for leather, canvas, fleece, felt, PVC, neoprene, and more.
DryGuy Force Dry DX, Boot and Glove Dryer
Snowboarders and skiers alike will fall in love with this dryguy wide-body boot dryer.
With extra-wide drying areas, this model of dryguy boot dryer can handle the thickness and weight of snowboarding boots and accessories with ease. When looking over the best boot dryer reviews.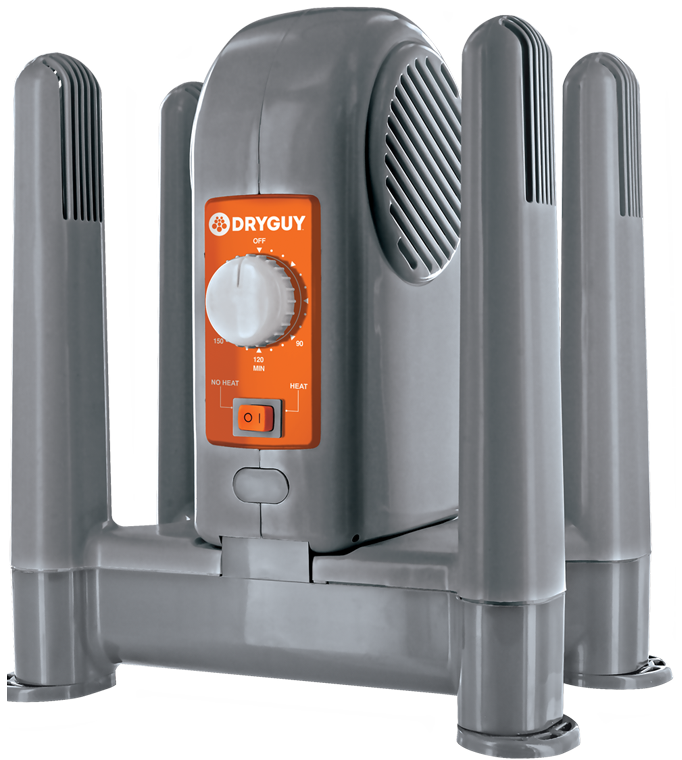 "Purchase This Product on Amazon"
The dryguy froce dry dx boot and glove dryer is an excellent choice for a number of reasons such as:
The three-hour timer is convenient for automatic shut-off.
The drying technology of this unit prevents the growth of bacteria and mold by effectively removing all of the damaging moisture from the inside out.
Work boots and shoes are dried with a 99-degree Fahrenheit forced-air system.
This powerful unit dries most items in an hour.
Four drying chambers allow for multiple drying at one time.
PEET Dryer, Advantage 4 Shoe Electric Express Dryer
This highly effective peet boot dryer can handle all of your drying needs.
The whisper-quiet motor of the peet portable boot dryer silently dries your garments in a matter of one to four hours.
The sleek design of this peet shoe dryer will allow users to display this electric boot dryer in the most trafficked of areas without compromising style.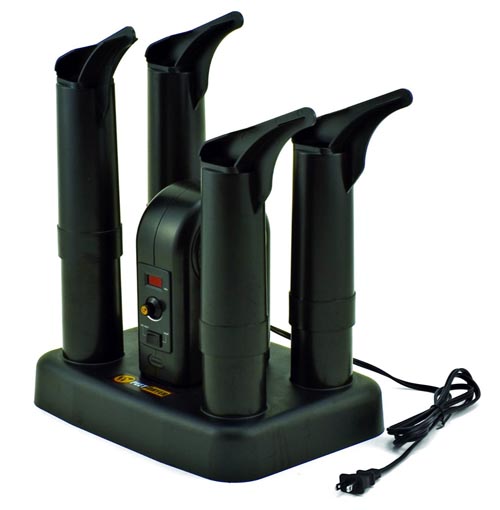 "Purchase This Product on Amazon"
The benefits that this dryer offers the peet boot dryer reviews include such things as:
This unit neutralizes odors and bacteria.
Keeping attire dry extends the life of the gear.
This unit comes with options of heat or no heat.
The 240-minute timer assures that the unit will automatically shut down.
Easy-to-read LED indicators are effective for nighttime use.
Fan-powered DryPorts ensure that the shoe or boot will be completely dry.
What You Need To Know To Choose The Best Boot And Glove Dryer
Making the decision of which boot dryer is the best dryer, it is important to consider such things as the needs of the user, the necessary blower power of the drying unit, and the portability of the unit.
User Needs
It is important to consider what size of the dryer will effectively dry the boots, shoes, or gloves that are wet.
A worker looking to acquire a work boot dryer that can dry one pair of boots quickly will be happy with a PEET Dryer that will eliminate moisture within an hour of beginning the drying process.
A person who is interested in hobbies such as snowboarding or skiing will be elated with the quality and the wide drying posts of the DryGuy Wide Body boot dryer.
Families will benefit from using the MaxxDry Boot, Shoe, and Glove Dryer XL's multiple port design to dry a number of items at one time.
Blower Power
Another consideration for the purchase of an electric boot dryer is the amount of output the dryer can achieve.
People who would like a dryer that can dry one pair of boots, shoes, or gloves very quickly will be satisfied with the PEET dryer two-port system.
Someone who requires multiple ports that dry quickly will definitely benefit from the DryGuy Wide-Body Boot and Glove Dryer.
For those people who are not in a rush, the PEET Dryer – Advantage 4 Shoe Electric Express Dryer will dry items slowly overnight.
Portability
It is important to have a way to keep your boots, shoes, and gloves dry when away from home for those who travel regularly.
A lightweight unit such as the MaxxDry SD Boot, Shoe, and Glove Dryer can be easily transported to any location to keep apparel dry.
Models such as the MaxxDry SD Boot, Shoe, and Glove Dryer that have multiple ports and are also easily moved from one location to another which will benefit busy families and those who spend a lot of time outdoors or in wet conditions.
Conclusion,
When it comes to shopping for the best electric boot dryer, there are factors to be taken into consideration such as the number of ports necessary, the portability of the dryer, and the size of the unit.
For the best portability and ease of use, the Peet dryer can cover the user's needs.
When there is a need for a larger unit that can dry multiple items at one time, the Peet Advantage 4 has it covered.
The Dry-Guy is perfect for the active snowboarder or skier, while the MaxDry models offer quick one-hour drying for those who need quick-drying options.
Overall, the best boot dryer depends on the needs of the user regarding the number of ports, the portability of the dryer, and the size of the drying unit to accommodate wet items.