Best Work Boots For Men's |Choose The Suitable Boots For Your Job
Give Your Feet The Love They Deserve By Choosing The Most Comfortable Work Boot For You
Being a worker who spends most or all of their time on their feet can be both a blessing and a curse. A good hard day's work leaves you with a feeling of accomplishment and pride.
There is also a good chance it will leave you with a sore and aching body; Especially your feet.
With the retirement age rising for many,this translates to even more years of physical labor and even more time spent on your feet. To help you get through the long hard days of torturing your tootsies,it is essential that you invest in a great pair of work boots.
Finding the best work boots involves comparing the qualities of Comfort, Durability, Safety, Materials, & Value before making a final decision.
Use the following information to help you decide which boots have the specific qualities that are right for your hard working feet.
"Get To Know" Your Boots Better: Decoding The ASTM Label
If you have ever purchased a new pair of work boots, chances are that you chose your size from the information on the side of the shoe box.
But, did you know that your new footwear contains a world of information that is not located on the box?
As you were trying on a pair of timberland work boots, you probably noticed the tag located on the inside of the right boot's tongue. This is where all of the boot's information is recorded. There are many important pieces of information on this tag, and knowing how to read it will keep you from purchasing a pair of safety boots that will end in disappointment and refund or replacement hassles.
To understand the symbols, numbers, and letters on the labels, there is a universal labeling code called the ASTM labeling system, that working boots for all men's footwear follows. It contains many different pieces of information such as the model number, country of origin, production date, and many more identifying properties.
To help you decipher the label on your next pair of work boots, we have created an informative and easy to follow info-graph containing the keys to understanding your boot's labels and unraveling the mystery of your boot's history.
All Boots Are Not Created Equal: Choose The Right Boot For Your Job.
When it comes to putting in a full day of work, the last thing you need is to be troubled with aching and sore feet. For many people this simply means wearing a pair of the most comfortable work boots that they can find.
However, comfort is not always the culprit behind chronic foot pain.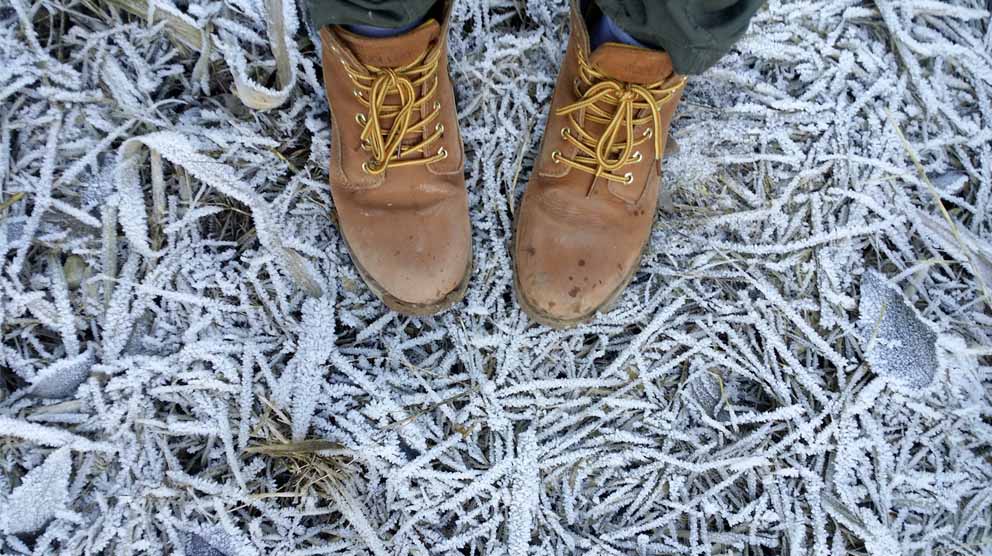 Often people suffer from sore feet, legs, and arches from wearing improper fitting, worn out, or improperly sized footwear. There are also those who are afflicted by painful and invasive foot conditions.
To add to the complications, many occupations have restrictions on the type of footwear that can be utilized on the job, so caution must be taken when buying new safety boots for mens toughest jobs.
Each occupation comes with its own unique set of work boot parameters and demands.
Some types of boots may be useful in multiple occupations,
while some others are constructed specific to safety standards. Issues such as steel toe, shank height, boot style, materials, and construction are all to be considered when looking for the most comfortable work boots. To get an idea of the types of "boot"wear that may be best for you, the following list of occupations and boot recommendations will help you narrow down your search.
Best Work Boots For Industrial worker



Those who work in the industrial industry, whether it be heavy or light, need a pair of boots that are comfortable; first and foremost.
Work days are often long and hot,
therefore a pair of boots that are constructed from natural materials,
with the ability to circulate air around the foot is essential. Workers in this field should look for a boot with a green or yellow triangle on the boot label.
A sturdy but flexible sole is also beneficial to the comfort factor when your job involves a lot of walking on concrete surfaces such as in a factory setting. Many manufacturing facilities require a steel toe type work boot for safety in hazardous locations. The protection for the toe and upper foot area for each type of work boot is indicated by the compression or impact resistance rating on the label.
Workers in this field who are not subject to the hazardous conditions of puncturing, cutting, or smashing their feet are able to wear work boots that have a blue square on the label. This square indicates that the boots are of a grade 1 rating for toe safety; they offer no protection against the puncturing of the sole.
Best Work Boots For Plantar Fascitis
This painful medical condition involves the stretching of the tissues that are located on the bottom of the heel and connect to the bones of the middle foot and acts as a shock absorber for the body.
For this reason,
it is important to invest in a pair of the comfortable work boots that offer extra deep heel cups and added support in the arch.
The best work boots for this condition will have a metatarsal resistance rating. This number found in the middle right of the label indicates the foot-pounds of pressure that each boot is designed to handle. These ratings are indicated by the letters "mt," followed by either the number 30, 50, or 75.
Best Work Boots For Flat Feet
This condition of the foot can be the result of many things such as injury,
illness, or aging.
It is a common condition in infants and children who have not yet developed the arch of their foot and any children simply do not ever develop an arch. This condition in adults is known as fallen arches, pes planus, or flat feet.
It is important to wear the boots that offer great arch support. For severe cases, in addition to the support built into the work boots, you may need to purchase additional supports to compliment the new boots.
Foot problem like plantar Fascitis, flat feet or Achilles tendonitis should considered first in case of choosing boots or shoes.
Best Work Boots For

Construction Worker



Perhaps no one puts in as hard a day as a construction worker. Especially if you are wearing a pair of quality work boots that offer enough comfort and support to keep you going strong even late into the day.
Depending on your job specifications,
the type of boot that is best for this occupation will have the qualities of being the most comfortable work boots, provide air circulation, and follow the safety standards for each particular job classification.
The safety standards for construction jobs may require boots that have
Puncture resistance,
Compression resistance,
Impact resistance,
& be insulated from electrical shock.
The most common recommendation for a general contracting job is a work boot that offers steel toe protection, resistance protection, and are resistant to electrical shock.
The foot bed of the boot needs to have a thick layer of flexible but strong material that can withstand the pressure of all-day standing and walking as well as punctures. For those who deal with a lot of moisture or oily conditions, a pair of boots that contain anti-slip properties is recommended.
Best Work Boots For Electricians
For those skilled workers in the electrical field,
it is necessary to invest in a pair of boots that offer protection from electrical shock and external forces. Boots are now constructed from sturdy rubber soles and contain grounding materials that are the perfect choice when constructing the best work boots for electricians.The ratings for the electrical protection of a pair of boots can be found inside the upper box on the tongue label. It is indicated by the letters "EH." Other letters that may be found in this location such as "SD" for static disruptive, or "DI" for dielectric insulation also indicate electrical hazard protection.
Although electricians deal directly with electricity,
working on a job site often poses outside threats such as punctures from stray nails,
screws,
and other puncture dangers.
To ensure that you don't end up with extra holes in your feet, look for the letters "PR" on the label. They will be located inside of the upper box and all of the way to the right on the bottom line.
Best Work Boots For Outdoors Men
Those who spend a large amount of time outdoors doing rugged work such as logging, landscaping, construction, and other tough arenas need to have a pair of service boots that can keep up with their back breaking schedule. For outdoor jobs, work boots should be waterproof and constructed from high grade materials. These materials provide a range of the preventative safety measures that are included in the manufacturing of each type of boot.
Puncture and Protection
When looking at the ASTM label for this type of work boot, a grade 1 blue square or a green triangle will offer the least protection from sole punctures. When the job entails working with crushing hazards but minimal sole protection is needed, the boot's label will adorn a grey square with an encircled "R" in the middle.
Electrical Protection
Those employed in the electrical field who routinely are subject to electrical encounters, such as power line workers, should invest in boots that have additional protection from electrical shock. This quality is indicated on the label with a white square that contains an orange omega symbol.
Best Work Boots For

Mechanics Worker



When it comes to working on planes, trains, and automobiles, most people do not consider the job of a mechanic to be overly hazardous. However, there are a number of very real and very dangerous situations for mechanics; slips, falls, and foot injuries being the most common.
Slip Resistant
It is important to find a pair of work boots that use slip-resistant or non-skid soles in their construction. These types of soles are normally created from such materials as rubber, TPU, and they are designed with specific traction patterns on the bottom of the boot.
Crushing Protection
Mechanics who work with the hazard of falling parts or crushing machinery will benefit from a pair of boots that contain impact and compression technologies. A pair of these work boots will also provide the steel toe protection that every mechanic needs to guard against falling wrenches or other heavy pieces. Materials such as thermoplastic polyurethane are commonly used to construct this type of work boot.
Best Work Boots For Concrete Walkers
Many jobs held today involve people working in factories or warehouses in which they have to spend all day on their feet. Workers such as postal carriers and delivery personnel are especially hard on their metatarsals. This could mean anywhere from 8 to 12 hours a day of enduring a constant pressure and pounding being unleashed on your feet, knees, hips, and back.
Comfort
For this type of job, it is important to check into the most comfortable work boots that offer shock absorption and air flow. The best work boots would be a pair of shock resistant boots that are designed with heel lock, a rubber sole, and some type of drying or air circulation technology for all day comfort.
Lightweight
Workers who do not face the possibility of crushing situations will benefit from the more lightweight work boot that is constructed with a composite toe. These boots offer foot protection without the added weight of a steel component or heavier sole materials.
Best Work Boots For Police and Military
Performing duties in the military or as an officer of the law  requires many hours of standing, walking, and occasionally running. It is necessary to utilize a pair of work boots or duty boots that are sturdy, dependable, stylish, and comfortable. Wearing a uniform comes with certain visual expectations as well as safety parameters, and a great pair of work boots will keep the authoritative image sharp.
Style
As well as meeting the current OSHA standards, many organizations and employers will require their employees to wear a certain color of uniform or footwear; for instance, many professional public servants are required to wear black footwear with their daily dress. This uniformity projects an image of power and creates an easily recognizable public image while keeping the workers safe.
Comfort
The leather body and lace-up front gives the wearer air flow and freedom of movement. This is especially important to the individuals who walk a beat, stand guard, or are continually exposed to hot and uncomfortable conditions. Materials such as leather and nylon mesh are superior for allowing air circulation to keep the feet dry and happy.
Construction
Military personnel are extremely hard on themselves and even harder on their boots. The boots that are worn by military personnel need to have a solid construction, such as those boots that implement the Goodyear welting in the sole design. This process of sewing the body of the boot to the sole will keep military personnel "standing at attention" in comfort and style.
Don't Step On My Toes–Or Maybe You Should!
Beauty is in the eyes of the "boot-holder." Which look do you prefer?
Each manufacturer of quality safety boots has their own distinct look, style, and fit. The most prominent and perhaps important of these features is the toe area of the boot. For safety, many work boots are offered with steel or composite toe options. From an esthetic point of view, there are three types of toe shapes to consider when purchasing the most comfortable work boots:
Rounded or Oval, Boxed or Square, And The Pointed or Cowboy toe.
Round Toe
The round version of work boot is the most common style of boot worn by workers from all over the world and in many different types of occupations. This would include such jobs as: mechanics, construction workers, electricians, and numerous others.
Each of these careers carries with it a number of job specific hazards and dangers. These types of boots often integrate safety elements to their boots such as anti-static soles and non-slip treads. These work boots for men's safety are commonly fitted with a steel toe.
Square Toe
For those who are more interested in the square appearance of their work boots or who suffer from foot issues, they will find that the extra room in a boxier toed boot is the answer to their sore and tired feet. The extra width is great for people who are flat-footed and naturally have wider feet. Many of these toe types are offered in a steel toe version.
Cowboy/Pointed Toe
You don't have to be a cowboy to wear a pair of boots with a pointed toe. This version of boot has a narrowed nose that is helpful to those who have thin feet, need extra support of their arch, ride in a saddle, or just enjoy the look of the boot. This functional work boot can be taken from the farm to the night club without compromising your style.
What Is The Difference Between A Steel Toe And A Composite Toe?
Work boots are designed for the protection of the wearer's feet; including the toe area. There are three basic toe protections in the construction of work boots. It is important to be aware of the OSHA and individual employer demands for which type of toe acceptable.
Steel Toe
A steel toed boot contains a composite of metals that are formed to contour to the shape of the toe area of footwear. It is meant as a protective measure from the crushing of the wearers feet in the instance of an accident where the foot is involved. This may include such workers as electricians, woodsmen, construction workers, and factory employees to name a few.
Composite Toe
These types of boots are constructed from a mixture of fiberglass, plastic, and carbon fiber. These materials are combined to form a hard shell that covers the toe of the boots. Workers in the occupations that require constant metal detecting security devices will benefit greatly from this type of work boot, as it contains no metal.
This would include employees in airport security, nuclear workers, and many other high security situations. These work boots weigh less than steel toed boots, which makes them the most comfortable work boots, but they do not provide the total toe protection that a metal toe delivers.
Toe Caps
This type of protection involves treating just the very toe of the boot with a non-permeating and compression resistant material. This material is normally a type of rubber that may or may not offer electrical protection. Check the boot's inner label for the electrical hazzard level that each individual type of boot includes.
Comfort Is The Key To Keeping Your Feet "Jazzed And Energized"
The first complaint from people who work on their feet all day is how much their feet hurt and how uncomfortable they are even in their best safety boots. To avoid becoming one of the many complainers, look for work boots that fit your individual needs and size.
Sizing
Choosing the right pair of comfortable boots can be the difference between a constructive day or one that is spent cursing in pain. The feet of the wearer should fit into the boot without extra movement in the heel area; especially when walking. The toe area should offer adequate room for circulation, but not so much as to displace the arch area of the boot from the targeted fit.
Credit: realmenrealstyle.com
Padding
The inner sole of quality work boots contains materials such as ethyl vinyl acetate (EVA) or polyurethane. The middle sole often uses a polyurethane, EVA, or rubber material that gives a softer landing for the foot.
Support
It is important to support the foot and arch area even in the least protective of work boots. There are materials that are able to withstand the pressure of an all day beating by implementing strong and durable materials. Common materials used to provide flexible support to work boots include such things as rubber, polyurethane, and ethyl vinyl acetate.
Breath-Ability
Air circulation is essential to the comfort of the boot wearer. Proper ventilation will keep the feet dry and free of bacterial growth. This aspect is especially important to those who work in arid, hot, or who spend a lot of time trekking.
Even The "Toughest" Of Feet Need Support And Protection
Foot safety on the job is no joke to anyone who has been the victim of an accident.
To help ensure that workers are as protected as possible, manufacturers have come up with many different types of safety equipment and rules. Perhaps the most important piece of safety equipment that any worker can adorn is a pair of comfortable yet quality work boots that comply with the necessary safety ratings.
To ensure that employees in high risk occupations are as protected as possible, work boots for men's most dangerous jobs are made with an informational label inside of the right boot.
This system was put into place to help identify products that hold specific safety rated aspects.
This identification label is the key to the materials, safety level, size, origin, and many other pieces of information.
Workers in the construction, welding, electrical, plumbing, and numerous other occupations are able to choose the right boots for them based on this information.
Find Your "Sole" Mate By Comparing And Choosing Boot Soles
Each manufacturer of work boots has their own "formula" of materials and production processes that they use to form the soles of their footwear. Some may use a molded rubber, while others may choose to layer and compress their bottoms.
Many shoemakers integrate different materials to ensure that the soles of their work boots are non-slip and water resistant. The most common types of soles are made from rubber, polyurethane blends, or have distinct treading for extra traction.
"Do You Need "Boots Of Steel" To Keep Up With Your Working Demands? Durability Is A Must!
The durability of a boot comes down to the materials used and the craftsmanship in the construction of the boot to the sole. The sturdiest of constructions is the Goodyear weld, followed by the cementing technique, and finally the pressing or molding technique.
For those who are prone to working in remote or hard to reach areas, work boots that have the thickest upper body material, such as leather, and plenty of ankle support are a must.Steel toes and steel eyelet construction is also important to delay the effects of wear and tear on the work boots.
Sole Construction: The Base Of Any Great Work Boot Starts At "The Bottom".
Most work boots are constructed in the same basic manner; except for the adhering of the sole to the body of each work boot.
There are three common methods for adhering the sole to the body of the boot: cementing, Goodyear welting, or Blake welting.
Each of these methods lends beneficial and specific properties, strengths, and safety measures to the products that they are creating. To ensure the strongest base for your work boots, a Goodyear weld is the most durable and recommended method.
Start Off "On The Right Foot" By Avoiding These Common Boot Buying Mistakes
There are many mistakes that can be made when deciding on a new pair of USA made work boots.
However,
with a little insider knowledge, you can choose the perfect pair of work boots for your hard working feet. Check out this article to discover what you need to avoid to get your best fit.
Don't Break Your Stride While You Break In Your New Work Boots; Tips And Tricks To "Taming" Your New Footwear.
Wearing a new pair of work boots often comes with both good and bad aspects. The good is the cozy and cushiony feeling on the bottom of your feet; the bad may be the blisters that you developed because you didn't take the time to wear in your new work boots properly.
Look over this information on breaking in your work boots to avoid your next "blistering" experience.
How To Stop Your Boots From "Strangling" Your Feet: Secrets To Boot Stretching.
There are a number of reasons that you may find that you are in need of some way to stretch your work boots out. Perhaps the pair you ordered is just too small or maybe you got them wet and they shrunk when they dried. Regardless of the reason, all is not lost and you can stretch them back to your favorite size by following the advice in this informational article.
These DIY ideas will bring your boots back to the "comfy old friends" that they once were.
Like Water Rolling Off A Duck's Back, Your Boots Need Moisture Protection Too!
Once you have made your investment in a great pair of work boots, it is essential that you protect them from nature's elements so that they last you a long time. The most important thing that you can do to protect your new footwear is to waterproof them.
Follow this easy to understand article to discover for yourself how to waterproof your boots.
Put Your Best "Boot" Forward With These Boot Cleaning Tips
To keep your new service boots in their best condition, it is important to know how to keep them clean. There are a number of different methods and cleaners that can be used to get the dirt off and get the most out of your footwear for a longer period of time.
For ideas on easy to understand cleaning tricks, follow the information listed in this article to learn how to properly clean your work boots and help keep them around for a good long time.
The Cheap And The Inexpensive: Is It Worth The Extra Cost?
There are many times when a good deal is just too good to pass up. That is unless it is concerning work boots. The areas that should not be compromised on are the safety and comfort of your feet.
Regardless of whether you stand in the middle of the street directing traffic, or if you are in the middle of an open range directing cattle, a reliable, durable, and comfortable pair of the boots is a must and generally worth the investment.
Cheaper and more inexpensive brands may not give you the safety protection and comfort that you desire.
Often the manufacturers use quick and inexpensive manufacturing processes to keep the cost of the product low for the consumer, but compromise the durability of the work boot. The construction of inexpensive boots with inferior materials will also contribute to the early demise of a cheaper made work boot, which in turn will translate into you having to purchase new footwear more often.
The Best Fitting Boots And How To Find Them
When choosing the right work boots for men's toughest jobs, it is important to consider many different factors. The very first thing to consider is the safety element. After that, the factors of materials, durability, construction, style, and comfort need to be considered.
When shopping for the best work boots, the decision of which one to purchase is as individual as your feet. Consider any of these work boots for your heavy duty job and save your hard working feet a ton of agony.
If you have any comments or questions, please feel free to leave them here.